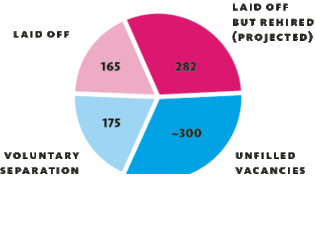 Graphic: Mark Zurolo '01MFA
Since the 2008 financial crisis, Yale has eliminated about 920 positions. Source: Yale Human Resources. View full image
In 2008, Katherine Germano-DelOrfano wanted to work at Yale so badly, she says, that she "took a big step down" in pay—only to be laid off 15 months later.
The story has a happy ending: within weeks, Germano-DelOrfano found another, higher-paying job in the film studies department. But not everyone has been so lucky. Germano-DelOrfano lost and found her job a year ago, in what administrators then predicted would be the only round of layoffs needed to cope with the approximately $6 billion drop in Yale's endowment.
This spring and summer, however, the budget ax fell again. About 100 people were laid off, approximately half of them managerial and professional employees and the other half members of the clerical and technical union, Local 34. (Service and maintenance workers in Local 35 have contractual protection against layoffs.) Another 130, mostly managers and professionals, took voluntary separation packages that included enhanced severance and health benefits.
Altogether, about 920 staff positions have been eliminated for budgetary reasons over the last two years, according to Michael Peel, head of the human resources department. Of those, 447 were involuntary layoffs, 175 were voluntary separations, and the rest were vacancies left unfilled. (The total number of staff—around 9,200—has remained fairly constant, though, because of growth in areas unaffected by the budget squeeze, including the medical school's faculty practice and research funded by federal grants.)
Local 34's contract provides for an interim employment pool, which offers laid-off employees the chance to work temporary assignments—at full pay and benefits—for up to 15 months while they apply for longer-term jobs at Yale. That's what Germano-DelOrfano did. So did about 70 percent of the other clerical and technical employees who were laid off last year, says Local 34's Ken Suzuki. The university says it expects that about 63 percent of those laid off in the past two years will find new jobs at Yale.
All laid-off employees get 90 days' notice. Clerical and technical workers can choose between the employment pool or a severance package, which—like severance benefits for managers and professionals—varies with length of service.
As a new employee in the Yale College registrar's office, Germano-DelOrfano knew she could be targeted for a layoff last year. When the bad news came, "it was incredibly nerve-racking and stressful," she says. "But I would rather go through it at Yale than in the corporate world, where I was before. It was a bump in the road, but definitely worth it."