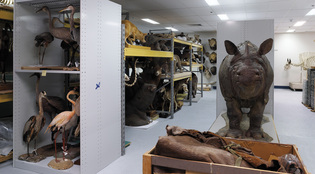 Christopher Gardner
This rhinoceros was a circus performer, donated to Yale by the Ringling Bros. and Barnum & Bailey Circus. The elephant whose skin is preserved in the wooden crate in the foreground also came to Yale by way of the circus. (They say the elephant escaped a Hamden parade and took off up Dixwell Avenue before he was shot; Yale got the remains.) View full image
The West Campus will provide Yale's museums with bigger and better space for storage, conservation, and study of their collections than ever before. Some parts of their holdings are already on-site: the Peabody Museum's holdings include portions of its extensive zoology, ethnography, and scientific instruments collections.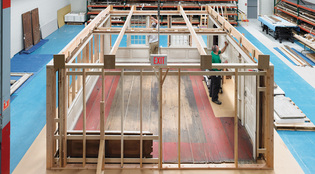 Christopher Gardner
Workers reassemble an eighteenth-century room before permanent installation in the University Art Gallery in 2012. View full image
The so-called Gilead Room consists of the wall paneling, floor, fireplace, and summer beam from the parlor of an eighteenth-century house in Hebron, Connecticut. Yale purchased the room's fittings in 1930, but they have been held in storage ever since, without being assembled. Curators now plan to install the room in the University Art Gallery. A team of conservators and curators spent the past year restoring the pieces and mounting a trial reassembly on the West Campus, where space for such projects is plentiful. It will be partially disassembled and brought back to New Haven for installation when the Art Gallery's renovation is complete in 2012.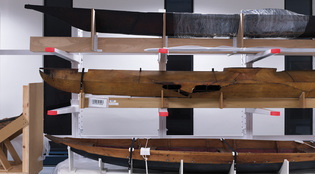 Christopher Gardner
The top two boats in this photo are arctic kayaks. The third boat is a canoe from Suriname, South America.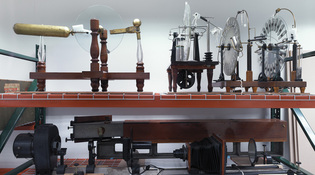 Christopher Gardner
A set of historical scientific instruments includes several devices used to generate static electricity, for research and demonstration in the days before scientists could plug into a wall outlet for power.