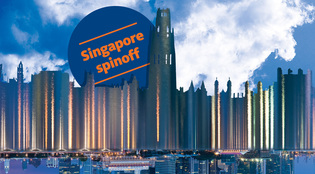 Photo illustration: Mark Zurolo '01MFA
"I do not intend to preside over a finishing school on Long Island Sound," declared Yale president Kingman Brewster Jr. in 1966. Brewster, who introduced a national, merit-based admissions system to Yale College, was arguing that a more diverse student body was necessary to keep Yale relevant in a changing world. What would Brewster have made of a Yale on Long Island Sound and the Singapore Strait?
That's not exactly the proposal Yale and the National University of Singapore (NUS) announced in September. Their idea is a new liberal arts college in Singapore, jointly governed by Yale and NUS and bearing both schools' names. But it's a radical move for Yale.
The university has been forging international connections for more than a decade, including a joint center for biomedical research at Fudan University in Shanghai and a small joint program at Peking University for Peking and Yale undergraduates. The Singapore plan, however, is the first time Yale has proposed to put its name on an entire campus—and to participate in granting degrees. True, they won't be Yale degrees. Officially, the degrees will be granted by NUS. But the diplomas will likely read, "Yale-NUS College."
The proposal means different things to different people. For Yale's administration, it is an opportunity to establish a beachhead in Asia as the region grows in economic strength and creates an enormous market for higher education—a market that has already drawn many leading Western universities. For Yale faculty involved in the planning, it's an irresistible chance to create a liberal arts college from scratch, without the strictures of existing departments and norms. For a few public critics, it's an ill-advised collaboration with a government whose restrictions on civil liberties are incompatible with the very nature of liberal education.
Whatever its pros and cons, the plan is part of an agenda Yale president Richard Levin '74PhD has been advancing since 1997, an agenda articulated in a 2005 document called "The Internationalization of Yale." One of its three broad goals is to "position Yale as a university of global consequence." A campus abroad would be the biggest step Yale has taken on that road.
Appropriately enough for a project driven by globalization, the Yale-NUS partnership began neither in New Haven nor Singapore, but over tea in a meeting lounge in Davos, Switzerland. Levin and NUS president Tan Chorh Chuan were both attending the World Economic Forum there in January 2009 and had a chance meeting. Tan told Levin that a Singaporean advisory panel had recommended that NUS establish a liberal arts college, and they were looking for a partner. "We quickly found that we had similar ideas about it," says Tan, "the principal one being that NUS should not just take an existing model and import it wholesale."
Singapore—an island nation of five million people, slightly smaller in area than the five boroughs of New York City—has been working to establish itself as an educational crossroads in Asia by forming partnerships with American universities at NUS: Duke has a medical school there, MIT an engineering program, NYU a master's program in law, and Johns Hopkins a music conservatory. NUS itself is a 30,000-student university ranked 31st in the world (and 5th when North America and Europe are excluded) in the QS World University Rankings. But except for a small honors program, NUS, like most universities outside the United States, offers undergraduates career-oriented education, not the liberal arts.
Singapore wants to change that. Government officials say they recognize that to remain relevant, the tiny country will have to be a hub of education and innovation. "If you look at most of the important challenges Asia and the world face—climate change, urbanization, public health—they are all complex issues that cover many domains of knowledge," says Tan. "We feel that we need forms of education that address this in a much more deliberate way. This is why we were drawn to the idea of developing a liberal arts college." Yale's experience in the liberal arts—specifically as a research university with an embedded liberal arts college—was what attracted NUS to Yale.
That experience and expertise—along with a prestigious and marketable name—are all that Yale is bringing to the partnership. The government of Singapore would pay the entire cost of building the college (on a former golf course adjacent to the NUS campus) and all the operating costs, which would be partly funded by tuition comparable to that of a state university in the United States.
As outlined in a September letter sent to faculty and alumni from President Levin and Provost Peter Salovey '86PhD, the college would be an autonomous institution governed by a board with equal representation from Yale and Singaporean officials. It would have 1,000 students, 100 professors, and three residential colleges (another innovation for Singapore, where on-campus housing is not the norm). Half the students would likely come from Singapore, the other half from the rest of Asia and the world. The professors would not be Yale faculty members—although Yale professors might go there as visiting professors—but academics hired by the college.
Yale's officers and trustees won't make a final decision on the plan until some time this winter, after they've had a chance to hear the opinions of the faculty and after the Singaporean government decides how much money it will commit to construction of the campus. If a final agreement is reached, the first core faculty—five to ten professors—will be recruited this spring. During the next academic year (2011–12) those professors would work on designing the curriculum and hiring the rest of the faculty. And during 2012–13, the entire Yale-NUS faculty would spend the academic year together at Yale, before decamping to Singapore to welcome the first entering class in the fall of 2013.