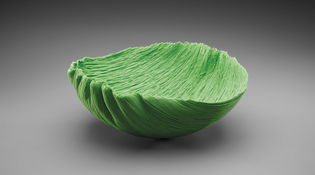 Yale University Art Gallery, Janet and Simeon Braguin Fund
American artist Toots Zynsky made Spring Grass II (1983) by fusing fine glass threads that she produces with a custom-made machine—a technique that has become her signature. The piece (not currently on display) is part of the Yale University Art Gallery's glass collection. View full image
In the early 1980s, American glass artist Toots Zynsky began experimenting with a novel technique: building glass vessels from hundreds of individual glass filaments. She lays arrays of these filaments over a flat plate, heats them until they fuse, and then reheats and reforms the resulting glass plate into the shape she desires. Works Zynsky has created with this process have been collected by several fine-arts museums, including the Smithsonian. The piece shown here—Spring Grass II, about twelve inches long—shows the emergence of the technique that would become her signature.
For earlier works, Zynsky had made the filaments by hand, stretching heated glass into thin threads in a process somewhat like pulling taffy. At the New York Experimental Glass Workshop in 1983, the Dutch engineer Mathijs Teunissen van Manen offered to help her change her technical approach dramatically, by designing a device that would stretch the glass with greater speed, regularity, and consistency. In her Rhode Island studio, Zynsky, 59, still uses his custom-made machine, which creates fine, highly uniform threads.
Spring Grass II is one of the first successful pieces Zynsky made with the thread device. It has the machined regularity of the uniform threads, but also exhibits elements of irregularity more typical of hand-stretched threads. Some of that effect was serendipitous. Zynsky was experimenting with different colors during this period, and this was one of the first times she had used opaque green glass for a vessel. Filaments made of other colors of glass had stayed flat when they were heated, but the green glass surprised her by curling up. She liked the organic look of the curling glass and incorporated it into later pieces. Both the tactile nature of the glass threads and the saturated color of the vessel fool the viewer into thinking this might not actually be glass at all.