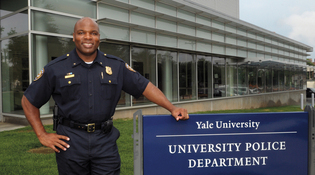 Michael Marsland/Office of Public Affairs
Son of a New Haven police lieutenant, Ronnell Higgins became chief of the Yale Police in February. View full image
Miscreants meeting Ronnell Higgins, the new chief of the Yale University Police Department and a former college linebacker, will likely find the experience unnerving. A 14-year veteran of the YPD, Higgins is 6-foot-1 and 260 pounds, and at 39 he looks to be still highly capable of meting out professional-quality blocks and tackles.
But the chief, who was sworn in on February 4, says he learned during an earlier job as a corrections officer that communication, not domination, is the key to policing. "It was two officers to 120 inmates, and you're inside without a weapon," he says. "Interpersonal relations are the key to your success."
Higgins's ability to understand and relate to others has helped propel his steady rise through the ranks. Yale's top cop also credits his fellow officers and his former boss, James Perrotti, who retired as chief last June, for his philosophy. "Jim stressed that we always needed to be mindful of the community we police, from the homeless person to the Yale scholar," says Higgins. "Our job is to make the Yale campus the safest place to study, live, work, and visit."
To do so, Higgins heads an 87-member force whose officers patrol the campus from the School of Medicine to the Divinity School, as well as the surrounding neighborhoods. Yale cops, who can arrest any perpetrator in New Haven, are out and about 24/7 in squad cars and on foot, bicycle, and Segway. The chief is also a regular presence in Yale e-mail in-boxes, informing the Yale community whenever a crime takes place on or near campus.
Statistics from the U.S. Department of Education's Clery Report on campus crime suggest that the YPD is heading in the right direction. Overall, says Higgins, crime is down. Burglaries, for example, declined from 103 in 2007 to 74 in 2009, the most recent year available. "Our goal is to reduce crime even more," says the new chief.