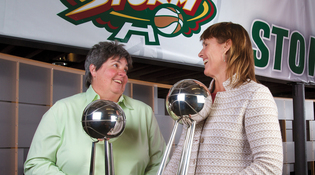 Dean Rutz
Lisa Brummel '81 (left) and Virginia Gilder '79 are part of a group that bought a women's basketball team to keep it in their hometown—and scored a WNBA championship. View full image
When the NBA Seattle SuperSonics were sold and moved to Oklahoma City, most assumed the WNBA's Seattle Storm would go with them. Virginia Gilder '79, Lisa Brummel '81, and two other fans embarked on a rescue mission to keep the team—and wound up owning it. None of the four had any experience running a pro sports franchise. Two years later, in September 2010, the Storm won the WNBA championship for only the second time in its history. But the new owners have kept their day jobs. Gilder, 52, owns an investment business and heads a family-run philanthropic group; she founded Washington Works, a nonprofit that helped welfare recipients find and keep livable-wage jobs. Brummel, 51, heads the human resources department at Microsoft. Both know sports: Brummel was an All-Ivy Most Valuable Player in both basketball and softball and was drafted by the Women's Basketball League in 1981. Gilder rowed at Yale and won a silver medal on the 1984 U.S. Olympic team.
Y: It has been four months. As owners, have you had any chance to savor your first title?
G: We savor it every day—are you kidding? This is really a community-owned team in some respects. The checkout person in my grocery store talks to me, the dry cleaner—every time I have lunch with people they say something. It's really the first topic of conversation.
B: The championship got everybody's attention, and being at the Storm gets people excited, and that's absolutely infectious. It's terrific to see the community here infected by the Storm and infected by the things we do here.
Y: You overlapped by two years at Yale. Did you know each other?
B: I knew of Ginny, and I'll bet we probably passed as I was on my way to basketball practice in the winter and she was in the indoor crew tank.
G: All I knew were rowers.
Y: How did you connect in Seattle?
B: Dawn Trudeau, one of the other owners, brought us together to help keep the team here.
Y: Ginny, this spring marks 35 years since the famous strip-in, when you and some other female rowers took off your clothes in an athletic director's office to protest the lack of women's showers at the boathouse. What memory stays with you most?
G: We weren't thinking of making history or anything else—I was 17. What I remember is feeling I would have done almost anything if [captain] Chris Ernst ['76] had told me, because I really believed in her. I remember being in disbelief that something as big and powerful as Yale University needed to be shaken up like this, by a bunch of rowers. And I was nervous.
Y: Lisa, what did you learn as an athlete that you could bring to the table?
B: If you look at most of the ownership groups across the WNBA, there aren't too many other folks that have direct basketball experience. The second thing I brought from my athletic experience was the notion of team. It's very, very important to me. I, for the most part, played team sports: I did track and field a little bit at Yale, threw the shotput and the javelin, but for me it's all about team. And that carried through very directly to what we do here.
Y: When the game starts, can you still be a fan, or is there too much to think about?
B: Yes, I revert to being a fan, but it'd be hard for me to say it's any different than being an owner. I'm a basketball player, and when I go to the game I think about basketball. I think about the team and where the players are and what [coach] Brian [Agler] is doing. And I thought the same thing as a fan, before we bought the team. Now I have a little more intimate knowledge of who's on the court and why they're on the court, and why choices are made to put them on or off. But nope—when it turns around, I'm a fan. We all sit in our regular seats, the same seats we sat in when we were just season-ticket holders.
Y: Really? Aren't there owner seats?
B: We have seats down on the floor, which we rotate amongst ourselves. But for Ginny and myself, it's our least happy time when we sit at center court. We've developed a group of friends, we [all] have our season tickets, and for us that's important. We want to watch the game with them.
G: I feel like I'm throwing a party for 8,000 people every game. So I'm always on the lookout for who I can say thank you to, if they're holding up a fun sign, or who do I need to go say hi to, or is there a sponsor prospect that I want to make sure I introduce myself to. Things like that. But I actually—especially during close games—do a lot of pacing.
Y: We have to ask. How are the women's showers in the Gilder Boathouse? [Gilder's father, Richard Gilder '54, gave $4 million toward the current crew boathouse, completed in 2000.]
G: That boathouse is a work of art. And [the architects] knew whose family name was on it. Whenever I walk in there I think, "God, why wasn't this here when I was!" Probably the best thing about going back and being with the women's crew at Yale is that they have a sense of history. It's actually one of the things that we bring to the Storm and to our women [players]: the whole idea that you are part of a legacy. You are standing on other women's shoulders, and women after you will be standing on yours.