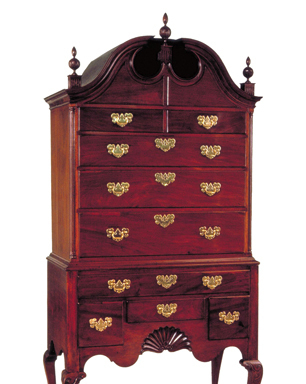 Yale University Art Gallery/Bequest of Doris Marguerite Brixey
This high chest was made by John Townsend, one of the premier craftsmen of eighteenth-century American cabinetry. It can be seen at the Yale University Art Gallery's Furniture Study by appointment or during the study's weekly public tour on Fridays at noon. View full image
In 1929, a public show of American art, held in New York and benefiting the U.S. Girl Scouts, featured items from the most important private collections. Objects in that show later became the gold standard for Americana, then a young field beginning to attract the attention of major museums.
Richard de Wolfe Brixey, Class of 1902, had clearly caught this collecting bug. His daughter, Doris, inherited furniture made in Philadelphia, Boston, Norfolk, Virginia, and Newport, Rhode Island. In 1984, Doris Brixey donated much of this material to Yale, including this Newport high chest of drawers, which had been part of the Girl Scouts exhibition. The high chest is a classic example of the Newport school, which itself is often considered the pinnacle of eighteenth-century American cabinetmaking. Newport-school furniture is distinguished by the quality of the mahogany, use of beautifully carved shells to ornament the furniture, masterfully carved feet, and abstract shell carving on the knees of the cabriole legs. By the 1920s, John Townsend and John Goddard had been identified as the leading figures of the school. But documented examples of their work were, and are, rare.
When the high chest arrived at Yale, Michael Moses's book Master Craftsmen of Newport: The Townsends and Goddards—a history of these superb cabinetmakers and their contemporaries—was virtually on press. For years Michael had been looking for the high chest from the Girl Scouts show, and when he heard that we had acquired it, he raced to New Haven. When Michael arrived at the University Art Gallery's Furniture Study and saw the chest, he said he believed it had been made by John Townsend between 1756 and 1762, and that it would place Yale's Newport furniture collection among the strongest in the country.
Michael predicted that when we examined the chest we would find two signatures of Townsend's construction process: chalk letters on the drawers to indicate placement, and blocks beneath the upper case to help align it during assembly. We all looked—Michael, Gerald W. R. Ward (then assistant curator), the other Yale curators, and I. Michael was right. The exterior backs of the drawers were each meticulously labeled, A to E. On the underside of the upper case, wooden blocks had been applied to center it precisely atop the lower case.
As we put the pieces of the high chest back together, Gerald removed the shelf paper lining the bottom of each drawer. Lifting the paper on the last drawer, he noticed some eighteenth-century script, in graphite. In bright light we could read: "Made by John Townsend Newport 1759." Michael stood speechless.