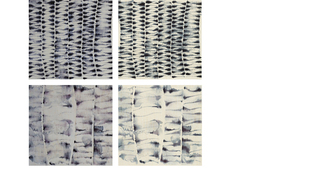 Rebecca Salter, Quadra Drawings 2 and 3, 2010. Woodblock printing by Sato Woodblock Print Workshop, Kyoto
In 1979, the British abstract artist Rebecca Salter made her first trip to Japan. There she found a set of aesthetic principles and artistic techniques that matched her own. Inspired by artists who used strong lines and subtle colors, she also became enamored of traditional Japanese art forms, including calligraphy and block printing.
In the decades since, Salter has experimented with several techniques and materials but has retained her appreciation for the artistic values of Japan. Her work is distinguished by a muted, monochromatic color palette and a constant search for new ways to produce vibrant lines.
For a recent project, she commissioned the Sato Woodblock Print Workshop, a group of traditional block printers in Kyoto, to create prints based on her watercolor drawings. The images above join two of her compositions with their replicas. (The drawings are at left; the block prints are at right. All are 30 centimeters square.) Despite the difference in technique, each print is a near-perfect match for its original. Salter describes the printers' craft as genius, and "a dying art."
Works by Salter are in the permanent collections of the Tate Gallery, the British Museum, and the San Francisco Museum of Modern Art. A retrospective of her career, called "into the light of things," is on display at the Yale Center for British Art until May 1. An accompanying exhibition, pairing a smaller selection of Salter's work with traditional Japanese art, is across the street at the Yale University Art Gallery.