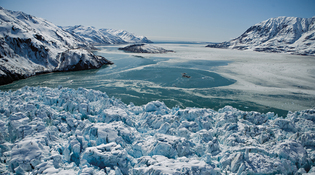 Robert B. Haas
Robert Haas's aerial photographs of the Arctic—this is the Hubbard Glacier in Alaska—are shot through with pattern and unexpected color. View full image
On a typical day, the two lives of Robert B. Haas '69 work like this. He'll rise at 3:30 in the morning and work from 4 a.m. until 8 a.m. as Robert B. Haas, National Geographic photographer, editing photographs and writing text for his next book of stunning aerial images. Around 8, he'll slip into something a little less comfortable and assume his role as Robert B. Haas, 63-year-old chair of the Dallas-based private investment firm Haas Wheat & Partners. When his schedule allows, Haas will pop up to New Haven to lecture, teach a class, or stroll through the Haas Family Arts Library, a two-year-old facility that he helped pay for. "You begin to learn that sleep is an optional activity," he says.
He's only half joking. Turning the early morning hours into productive work time is one of the many ways Haas keeps two careers thriving. "I'm leading a Dr. Jekyll–and–Mr. Hyde life," he says. "My business workday is cluttered with lots of people, phone calls, and e-mails. My photographic life is much more individual and solitary. I find that bouncing back and forth between those lives is intense, but one provides a breather from the other."
Images from Haas's most recent book, Through the Eyes of the Vikings: An Aerial Vision of Arctic Lands, were recently on display at the School of Forestry and Environmental Studies—the first formal art exhibition in Kroon Hall.
Shot over three years and eleven expeditions, Through the Eyes of the Vikings takes in a wide sweep of the Arctic, from Alaska's western coast to the Lapland region of Finland. Weather figured into his work like never before, Haas says. "It's so darn cold, and the weather's so volatile. In some places I'd go out for 14 days and have only a two- or three-day break in the weather that allowed the helicopter to go up."
About that helicopter: Haas works by leaning over the side of the chopper—with the door retracted—tethered by a climbing harness. "I need to get my body and camera parallel to the ground and shoot straight down," he says, "so we rig up a double-harness system and wrap duct tape around the buckle to make sure it doesn't open."
Haas made his name in the business world with his mid-1980s purchase of 7Up and Dr Pepper, turning an $88 million investment for him and his partners into a $1.3 billion soda powerhouse. His artistic career took a little longer to get started. "I bought my first camera at age 47," he says. His aerial perspective came about by chance. On an African safari in 2002, he chartered a helicopter for a different look at the landscape. "Once that helicopter lifted off, I looked down at the earth from above and felt like a completely different photographer," Haas recalls. "My eyes, hand, and brain began working differently."
So differently, in fact, that his work caught the eye of editors at National Geographic, who have now published three books of Haas's aerial projects. (Through the Eyes of the Gods looked at Africa from on high, Through the Eyes of the Condor at Latin America.) "Bobby has an ability to see the landscape in a way that's akin to painting," says Lisa Lytton, project editor on Haas's books. "He has the ability to put color, light, and pattern together in a way that captures a scene, almost like an abstract expressionist."
What drives Haas is a passion for new places and new perspectives—both of which he has the means to find, with the help of a chopper and pilot. "Aerial photography allows you to reach out and grab the inaccessible," he says. His work is shot through with both pattern and unexpected color, whether it's the purples and oranges of the summer tundra in Alaska's Arctic National Wildlife Refuge, the red iron-rich soil of an Icelandic mountain, or the deep rich blues of a Greenland fjord. "You can surprise people with your images," Haas says. "And when you've done that, you've expanded their consciousness."