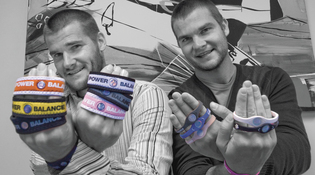 Ana Venegas/Orange County Register
Josh Rodarmel '07 (right) and his brother Troy have built Power Balance into a business with $35 million in sales last year. View full image
I bumped into Josh Rodarmel '07 in the Starbucks at Chapel and High streets the day before the 2007 Yale-Harvard football game. Josh and I had become friendly after I profiled him in the Yale Daily News the year before, though I hadn't seen him since he graduated. He told me he had gone into business with his brother Troy, selling a line of bracelets embedded with holograms that brought the wearer physical benefits.
To demonstrate, Josh had me stand on one foot, arms spread parallel to the ground, while he applied force to one of my arms. I duly toppled over. Then he handed me a bracelet, a sleek band of brightly colored silicone, and applied the same force again. I held my balance. There was a similar test for strength, which I likewise flunked bare-wristed but aced with the bracelet. As I shook my head, incredulous, Josh told me a bit about how it worked.
The holograms, he explained, contained frequencies that reacted positively with the body's natural energy field. As long as the bracelet—which is to say, the hologram—was on or close to my body, it would help optimize my innate physical abilities.
Josh didn't spend much time on Science Hill in college, but he speaks with a disarming earnestness that makes him easy to listen to and a persuasive salesman. Raised in Orange County, California, in a Christian household that valued holistic therapies, he had been a star quarterback in high school. At six-foot-one, he was never tall by quarterback standards, so he made up for it with a masochistic training regimen—which eventually led to a cartilage tear in his shoulder. Yale recruited him anyway, knowing he could dominate the Ivy League if he was healthy. But his college career amounted to a life of surgery and rehab.
In each of his four years at Yale, Josh hoped his shoulder would return to form, so he stayed on the team but never even played a down. He also poured himself into other pursuits, double-majoring in Spanish and political science and devoting time to the campus Christian group Athletes in Action. When I asked him about career plans in 2006, he wasn't sure about specifics. But he was interested in working with his brother Troy.
Five years later, on the strength of the little bracelet Josh showed me that day, the Rodarmels preside over one of the fastest-growing brands in sports. Their company, Power Balance, grossed over $35 million in sales in 2010, buoyed by ubiquitous exposure from paid athlete endorsers like Shaquille O'Neal. The wristbands, which cost about $30 in the United States, are now sold in 30 countries on six continents. In January, the company announced a five-year deal for the naming rights to the Sacramento Kings' arena, soon to be designated the Power Balance Pavilion.