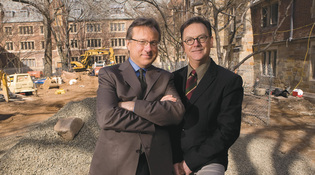 Julie Brown
Richard Lalli '80MusM, '86MusAD (left), and Michael Rigsby '88MD stand in the courtyard of Jonathan Edwards College, which is being renovated this year. View full image
Music professor Richard Lalli '80MusM, '86MusAD, "never imagined it would be possible" that he would become master of Jonathan Edwards College. Not for the reason you might expect—that when he takes office in January he'll be the first openly gay master of a Yale residential college. No, Lalli had doubts because he's an adjunct professor, and masterships are typically granted to the tenured.
But Lalli's 2007 Yale College teaching prize, his two dozen years teaching music at Yale (originally at the School of Music and currently in the Department of Music), and his involvement with numerous campus music projects clearly endeared him to the search committee at the culture-rich Jonathan Edwards. He's also an internationally known singer: reached in mid-March by phone for this article, he was in Paris performing at the Louvre.
Serving in loco parentis to 400 students might make gigs in Europe more complicated, and Lalli admits "there was hesitation" about taking the job. His partner, Michael Rigsby '88MD, "wasn't entirely comfortable with being on call 24 hours a day"; Rigsby's post as medical director of University Health Services already requires around-the-clock dedication. But Rigsby's "resigned to it now," Lalli says with a smile, and has accepted the role of associate master (a title masters' spouses have held since 1997).
Lalli and Rigsby move into the newly renovated college in January. They'll hold on to their house in Madison for a year, partly to make transporting the stacks of books and musical scores less arduous. What about a piano? Here, JE's generous endowment comes in handy. "We do have one," says Lalli. "But the college has so many Steinway grands we won't be needing ours."