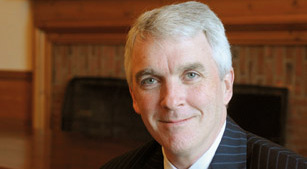 Office of Public Affairs
Thomas J. Lynch Jr. '82, '86MD, is the new director of the Yale Cancer Center. View full image
Thomas J. Lynch Jr. '82, '86MD, who last month became the director of the Yale Cancer Center, was born to his career. "My father, a hematologist, was one of the first cancer doctors in the country," says Lynch. "I had a built-in bias towards going into oncology." Moreover, the period when he was studying at Yale was an especially exciting time. "Some of the major breakthroughs in cancer biology were just beginning, particularly the role genes were playing in malignancy."
After graduation, Lynch and his wife, education writer Laura Pappano '84, moved to Boston, where he joined the staff of the Massachusetts General Hospital and taught at Harvard Medical School. As both clinician and researcher, he specialized in the treatment of lung cancer and pioneered what he calls personalized treatment. It begins with the creation of a molecular profile of a tumor, after which the medical team can select the best combination of drugs for the individual, rather than use a one-size-fits-all approach. "It's about getting the right drugs to the right patient," he says. "This is absolutely the future of cancer medicine."
After a 23-year tenure at Mass General, Lynch found two reasons to return to Yale: the Smilow Cancer Hospital, scheduled to open in October, and the cancer research facilities under development at the West Campus. "I wouldn't have come for either one alone," he says. "But what excited me was that together, they give us a chance to really rethink how we do cancer medicine."