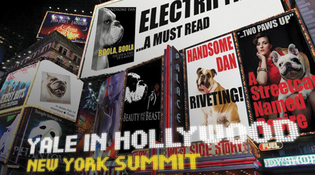 Brian Hodge '06
A poster for the March Yale in Hollywood New York Summit, one of several AYA events for alumni with shared interests and careers. View full image
What happens when 300 Yalies with the same passion get together to share ideas and dreams? We generate a creative energy that could lux the world and illuminate the veritas. Or so it seems in that moment. A dream shared with a fellow Yalie is a dream realized.
I experienced this Yale energy first on the inaugural Yale Alumni Chorus tour to China in 1998, and again, most recently, March 4–5, at the inaugural Yale in Hollywood New York Summit. Spending time with Yalies in the entertainment industry, and trading tales about visionary projects in film, theater, television, the Internet, or some new digital format, refueled my own creative engine.
"The energy here is feeding off the same energy we had at Yale," said Chris Kalb '90, a writer and book illustrator who lives in Brooklyn. "It's about being inspired. These are my people. If you're a Yalie, chances are you know someone doing something exciting."
The Yale in Hollywood New York Summit showcased what can happen when alumni connect in ways beyond the traditional class and professional school reunions or geographically based club settings.
The Association of Yale Alumni (AYA) began to focus on programming aimed at the shared interests of alumni after seeing how the powerful bond of singing at Yale could translate into a strong alumni group that transcends age and location. Yale Alumni Chorus founder Mark Dollhopf '77 arrived at the AYA as executive director in 2006, just as Yale was looking at different ways to engage alumni. He led the AYA through a strategic planning process that turned around traditional thinking and shot new energy through the entire Yale alumni community.
Shared interest groups (SIGs) now share equal status with classes, clubs, and graduate and professional school alumni groups, sending official delegates to the annual AYA assembly and enjoying support from dedicated SIG staff. The SIGs have been forming by the dozens, based on shared activities or associations while at Yale, or through current vocations or avocations.
Kevin Winston (who asked that his class year not be mentioned), the president and cofounder of Yale in Hollywood, had been president of a traditional Yale club. He was stunned by the overwhelming response to the first events organized by Yale in Hollywood: a mixer that attracted 80 graduates and a panel discussion that drew 250.
While aimed at getting alumni on the creative side together with those on the business side, the group also arranges summer internships for Yale students and recent graduates who want to work in the industry. "Yalies like to give back," Winston said. He praised the AYA's commitment to this type of outreach and the expertise of SIG director Nicholas Lewis '93. "The AYA helped galvanize us. Nicholas is in entertainment and knows what will work in this community," Winston said.
Sibongile Sithe '11, one of some 25 Yale students at the summit, came to explore writing as a career. After a panel about making and marketing the independent film The Best and the Brightest, an upcoming farce created by four Class of '93 Yalies, Sithe told me what she had learned: "If I want to write for a living, I can, and I should."
Keynote speaker Sheila Nevins '63MFA, president of HBO Documentary Films, told me she relished the chance to interact with young alumni. "We need this creative, new Yale energy to make it happen," she said.