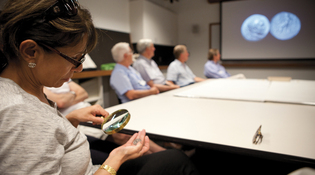 Julie Brown
DS for Life student Carmen Medina examines an ancient coin at the Art Gallery. View full image
In February, Carmen Medina visited her son at Yale and sat in on some of his classes in Directed Studies, the intensive three-course survey of Western civilization for freshmen. Medina, who has an MD and a PhD but had never studied the classics, was transfixed. "I spent the plane ride home thinking about how I could study these things for myself."
Less than 24 hours later, she—and thousands of others—received an invitation to sign up for a new program called Directed Studies for Life. "I couldn't believe it," says Medina, who signed up instantly. Marketed to alumni and Yale parents as a vehicle for "lifelong learning," DS for Life is a two-week academic program with lectures and seminars taught by Yale faculty. This year's debut program in late May and early June covered ancient Greek history, philosophy, and literature.
Fifteen people, most of them over 50, signed up. For $6,500, they got housing in Yale's "swing dorm," meals on and off campus, and a condensed version of the first weeks of Directed Studies. And although the schedule included receptions, a golf outing, and a Quinnipiac River cruise, anyone who expected the grown-up equivalent of a gut course hadn't read the syllabus. "This is not for lightweights," says Medina, "It's a serious academic commitment, with four to six weeks of preparation and daily participation."
In fact, says program director Pam Schirmeister '80, '88PhD, the students sometimes balked at the recreational activities—protesting that they needed more time for their homework. "Seven people didn't show up for the dinner cruise because they were going over their reading," she says, "and two of the rest got on board and read most of the time."
"I think the professors were amazed just how nerdy a group we turned out to be," says Andrea Rock '77, a teacher in Philadelphia. "I had forgotten the visceral joy of sitting with a group of Yalies who really want to learn." Rock and her classmates apparently couldn't get enough. When they got back home, they organized an online community to continue the conversation.