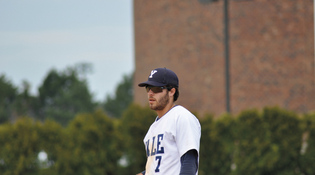 Gini Elmore
Trey Rallis '11 was voted Ivy League Player of the Year. View full image
Baseball
In May, the Ivy League made an error in counting votes and gave its Player of the Year award to Princeton catcher Sam Mulroy rather than the rightful winner, Yale's Trey Rallis '11. When the league noticed its error and made the embarrassing correction, Rallis was thrilled, but he also knew that he had already accomplished something far more important.
Rallis arrived in New Haven in 2006 as a prized shortstop from Los Angeles, blessed with a Pac 10–caliber bat and Ivy League grades. By his own admission, though, his biggest priority during his freshman year was his social life. He got into fights, he vandalized his entryway in Bingham Hall, and he drank too much. In March of 2007, he was kicked off the team. Two months later, after being caught cheating on an Italian exam, he was suspended from school for a year. "It was shameful," Rallis says. "I came back home with my tail between my legs."
Rallis worked full-time selling shoes, taking classes at UCLA on the side. He also got involved in a Christian ministry, embracing the faith he says he'd merely paid lip service to while growing up. When he returned to Yale, he asked baseball coach John Stuper if he could rejoin the team. Stuper told him he wanted to see Rallis handle being a student before he would allow him to be a student-athlete.
When Rallis returned to the club a year later, the coaching staff's expectations were modest; they told him he could contribute as a "role player," only seeing action if a coach called him into the game for a specific task. But he elbowed his way into the designated-hitter role and hit 20 doubles last season—a new Yale record. He spent the summer in Xenia, Ohio, playing in the prestigious Great Lakes League. When Rallis returned for his senior season, he became the starting first baseman and centerpiece of a potent lineup that saw Yale's best baseball season in five years. He batted .441 in league play and became the league's only unanimous first-team selection.
Rallis walked with the Class of 2011 during commencement, although he will finish his degree in the fall. On Class Day, Stuper told him, "The boy I recruited in high school and the man who graduated today are two very different people."
Women's Track
For the fourth consecutive year, the track season for Kate Grace '11 extended into June. The All-American saved her best season for last, winning the NCAA East Regional with a school-record 800-meter run of 2:03.41. That vaulted her to nationals in Des Moines, Iowa, where she placed fifth. Grace, who overcame a March flu that kept her out of action for a week, credited outgoing coach Mark Young '68 and a regimen of 1500-meter runs for her record-setting campaign. "He and I have been talking about these possibilities for a long time," Grace says. "It's always nice to train with someone who sees your potential." Grace will compete in the cross country season in the fall while she finishes her degree, and is considering training for next summer's Olympic trials after that.
Men's Golf
Heading into the final day of the Ivy League golf championship, Yale trailed Penn by two strokes. Thomas McCarthy '11, the Yale captain, was the Ivy League Player of the Year in 2010, but a bigger goal was within reach this spring. "We hadn't played good golf and we were only down two," McCarthy says. "I told the team that tomorrow could be our last round, and to just give me 100 percent on each shot."
The five-man team responded with a masterful final-round 288, 14 strokes better than the weekend's next-best round and good enough to win Yale's first Ivy championship since 2003. The win sent the Bulldogs to the NCAA regional in Blacksburg, Virginia, where they finished 13th.