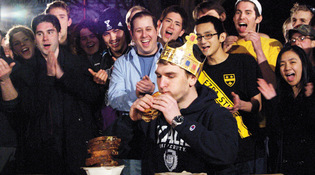 Courtesy Travel Channel
When the Yankee Doodle Coffee Shop went out of business in 2008, the burger-eating contest known as the Doodle Challenge died with it. But competitive gluttony never goes out of style. The new kid on the block is the Cheese Truck Challenge, thrown down by the gourmet grilled-cheese truck that frequents campus during lunchtimes. (It's operated by the owners of Caseus, an haut-fromage restaurant on Whitney Avenue.) Eat ten of their rather large grilled-cheeses, with the topping of your choice, in under an hour, and at the Cheese Truck that sandwich will forever be known by your name.
So far only one person, Etkin Tekin '12, has been immortalized in cheese; the Tekin features guacamole and bacon. But Ric Best '14 recently made a valiant attempt—on national television, as part of the Travel Channel show Man v. Food Nation. Host Adam Richman '03MFA, who has done his share of gorging during the show's three-year run, gave Best plenty of advice. But his protégé managed only eight grilled-cheese-and-red-onion sandwiches.