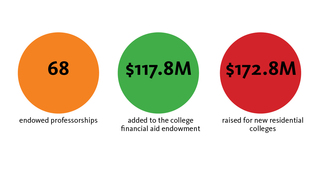 Highlights of the Yale Tomorrow campaign. View full image
Sure, Yale increased the goal of its capital campaign halfway through. And sure, the global economy sort of collapsed not long after that. But no problem. After the five-year Yale Tomorrow campaign officially ended on June 30, the development office announced that Yale had met the revised $3.5 billion goal—with a few hundred million to spare.
The $3.88 billion final tally dwarfs the $1.7 billion raised in Yale's last campaign, which ended in 1997. It is the second-largest fund-raising campaign total ever announced by an American university, topped only by Stanford, which has raised nearly $4.5 billion in a campaign that will end in December. (Columbia and Cornell are in the midst of campaigns with goals of $4 billion.)
The original goal for Yale Tomorrow, which was launched publicly in 2006 after more than $1 billion had been raised in a "quiet phase," was $3 billion. The goal was raised to $3.5 billion in 2008, to support a new plan to build two new residential colleges and increase undergraduate enrollment by 15 percent. But President Richard Levin '74PhD says that after the endowment lost $6.5 billion in 2008 and 2009, fund-raisers shifted their focus from the colleges to more urgent needs—namely, preserving faculty positions and student aid. Although $172.8 million was raised for the colleges in the campaign, more than $300 million is still needed to build them.
Although staff at the development office are happy to accept congratulations for the successful outcome, they say their jobs are hardly more relaxed now than they were before June 30. Like electoral politics, university fund-raising has become a permanent campaign.
New or Existing Initiatives Endowed During the Campaign:
Jackson Institute for Global Affairs
Sackler Institute for Biological Sciences, Physical Sciences and Engineering
MacMillan Center for International and Area Studies
Greenberg Yale-China Initiative
Yale–Gilead Sciences Cancer Research Collaboration
Institute for the Preservation of Cultural Heritage
Energy Institute