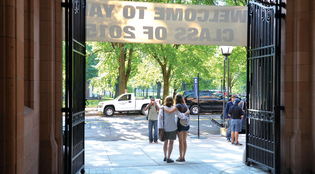 I am delighted to join Dean [Mary] Miller ['81PhD] in welcoming you, the Class of 2015, to Yale College. I want to welcome also the relatives and friends who have accompanied you here, and especially your parents. As a father of four college graduates, I know how proud you parents are of your children's achievement, how hopeful you are for their future, and how many concerns—large and small—you have at this moment.
Let me try to reassure you. Your children are going to love it here! And I expect that you are going to enjoy your association with Yale, whether you are a returning graduate or one of the vast majority of parents who never set foot in New Haven until your children started to think about where to go to college. You may take comfort in learning that surveys have shown that Yale parents are the most satisfied in the Ivy League. So, welcome to the Yale family! We are so pleased to have your children with us, and we will do our best to provide them with abundant opportunities to learn and thrive in the four years ahead.
And to you, the Class of 2015, I make the same pledge. For you, these next four years will be a time of opportunity unlike any other. Here you are surrounded by astonishing resources: fascinating fellow students from all over the world, a learned and caring faculty, intimate residential college communities, a magnificent library, two extraordinary art museums, an outstanding museum of natural history, superb athletic facilities, and student organizations covering every conceivable interest—the performing arts, politics, and community service among them. You will have complete freedom to explore, learn about new subjects, meet new people, and pursue new passions. You will have chances to expand your horizons, to widen your scope of vision, to see the world from many perspectives. I want to encourage you, in every way that I can, to make the most of this rare and unique opportunity.
The simple truth is that we need you. In these times of great uncertainty, when we seem unable to deal with our gravest problems, we desperately need an infusion of broadly educated citizens and leaders to join the debates, raise the level of discourse, and move us in the right direction. We know all too well the missed opportunities of the past few years.
We entered 2009 full of hope that the world's nations could agree to save the planet from the scourge of global warming. But the US Congress deadlocked in a struggle dominated by the parochial interests of various industries and regions and failed to act. Then, in Copenhagen, efforts to reach a global agreement were foiled when neither the United States nor the developing nations were willing to compromise for the good of all, and only the Europeans saw the big picture.
Consider our current economic condition. Since January 2009 it has been clear that there is only one way to prevent a deep and prolonged recession and avoid persistent high unemployment. We needed then, as we need now, a massive fiscal stimulus in the form of direct job creation, not tax cuts. And we needed, at the same time, to make a commitment to reduce the federal budget deficit dramatically over a period of years—not immediately, since that would prolong the recession, but predictably. We finally faced the question of deficit reduction this summer. But the ideological rigidity and parochialism of members of Congress moved the dialogue away from the big picture and paralyzed us with rigid and simplistic formulas—no tax increases, no increase in the debt ceiling, no cuts to Social Security and Medicare. After weeks of deadlock, we took only a tiny step toward solving the problem.
Last December, David Leonhardt, a member of the Yale College Class of 1994, identified with crystal clarity the issues we face in the form of a picture he published in the New York Times—a budget Sudoku. In this brilliant graphical display, he demonstrated that no combination of discretionary spending cuts could close the federal budget gap by 2020. The only way to do so involves some combination of reducing Social Security benefits, controlling Medicare and Medicaid costs, reducing defense spending, and raising taxes (or, at least, allowing the Bush tax cuts to expire). David's Sudoku allowed his readers to see the big picture clearly, and he was rewarded with the Pulitzer Prize.
I am going to make the audacious claim that David's Yale education has had a lot to do with his ability to see the big picture. He experienced, just as you will over the next four years, exposure to a variety of disciplines—in his case, mathematics, economics, politics, and history, as well as physics and art history. This broad education has allowed him to look beyond the small-mindedness of what politicians say to interpret the larger trends driving the economy and society. He also learned to write clearly, analytically, and forcefully. He mastered this essential tool not only through his English courses but also through his principal extracurricular activity as a reporter for and subsequently as editor of the Yale Daily News.
David Leonhardt is but one of many visible examples of the profound way in which the liberal arts education you are about to experience can help you to develop the capacity to see the big picture. By sampling courses across a wide range of disciplines, you will learn to see problems from multiple perspectives. And by learning to think critically and analytically, you will become disinclined to accept simplified slogans as truth, more able to see subtle interconnections, more capable of forging solutions that embrace complexity without being overwhelmed by it. No matter what subjects you choose to pursue in depth, you will be required in your first two years to develop some breadth, and you will be challenged to think for yourselves—independently and analytically. In short, you will equip yourselves, in the words of Yale president Jeremiah Day, writing in 1828, with both the "discipline" and the "furniture" of the mind, rendering you capable of distinguishing clear and convincing arguments from doctrinaire assertions and unexamined prejudices. You will learn how to see the forest for the trees.
This capacity to see the big picture has been a characteristic of Yale graduates for decades, if not longer. In 1916, as America sat by watching a world war that many believed it would inevitably enter, a group of Yale College students came to realize that the new technology of aviation might potentially change the shape of warfare. While still in school, they convinced the Navy to constitute them as the first squadron of what became the Naval Air Reserve. In March 1917, these 29 young aviators left school en masse and enlisted in the Navy, immediately comprising more than one-third of the military's qualified pilots. They made a substantial contribution to the Allied war effort, because their Yale education helped them to see clearly what others could not.
Aviation has a role in the story of another Yale senior who was capable of seeing the big picture. Fred Smith, Class of 1966, had a vision that came to revolutionize the transportation of documents and small parcels. In the senior essay he submitted to the economics department, he laid out a simple idea: that shipments might be gathered from metropolitan areas all over the United States and flown in the evening to one central hub, where they would be reloaded onto planes headed to their destination metropolitan areas and flown out for delivery the next day. The oft-repeated story is that Mr. Smith earned a C grade for his efforts, and then went on, after serving in the military, to found a logistics company known as Federal Express. According to the legend, he saw the big picture, even if his economics professor did not. It is not true that he got a C, though it makes the story better in the telling.
Lest you think airplanes always figure into the narratives of Yale graduates capable of seeing the big picture, let me give you two more stories. When Ruth DeGolia, Class of 2003, served as a summer intern in Guatemala, she came to recognize that the women in the rural villages in which she was working made weavings of unusual quality and beauty. But they sold for nearly nothing in local markets. Ruth encouraged these women to form cooperatives and market their wares over the Internet. She brought them fashion magazines to inspire them to weave woolens in patterns that would appeal to North American tastes. Today, the earnings of the cooperatives she helped to establish provide substantial support to public education, as well as access to electricity and clean water and public health in more than 30 Guatemalan villages.
Just one more: David Levin '92 (no relation) studied history and the history of education at Yale and designed and directed a tutoring program for New Haven schoolchildren. He then joined Teach for America and came to an understanding of why K–12 education was failing in our inner-city schools. In his big picture, students needed the discipline to focus on their work, the self-confidence to believe that they could succeed, and the motivation to recognize that their discipline would be rewarded with a better life if they managed to graduate and attend college. From this inspiration came the KIPP Schools, which David founded in partnership with Michael Feinberg, the graduate of another Ivy League school. KIPP has been a pioneer in urban education, demonstrating a model that truly works.
These stories inspire us with the achievements of those who started here just like you, with great potential, curiosity, open-mindedness, and a desire to make a difference in the world. The extraordinary resources of Yale College will give you the opportunity to realize that potential, to exercise that curiosity, to expand that mind beyond anything you can possibly now imagine, and to fulfill that desire to make a difference. If you stretch to your limits, and take courses and engage in extracurricular activities that broaden and challenge you, then you, too, will develop the capacity to see the big picture. We are counting on you. You are setting off on a grand adventure. Make the most of it!