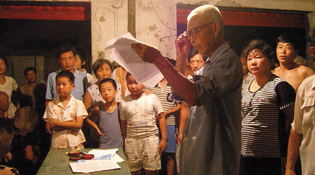 Chang Ai Media Project
In 2007, villagers of Qiugang, China, signed a petition protesting severe pollution from a local chemical complex. The petition signing was captured on camera by documentary filmmakers. The completed film, posted on the environmental site Yale e360, drew Beijing's support and was nominated for an Oscar. View full image
On a sticky spring night in 2007, the residents of Qiugang, a small village in eastern China, crowded into a dimly lit room to sign a petition protesting a local chemical plant that was polluting their town.
It was a risky act. Villagers who had tried to protest the plant in 2003 had been viciously beaten. But the risks of doing nothing were growing, too: pollution was poisoning crops and filling waterways with dead fish, and the village's cancer rate was surging.
China's lack of an independent free press means that events like this, pitting ordinary citizens against powerful businesses and local officials, often go uncovered. Qiugang, however, became the subject of Thomas Lennon '73 and Ruby Yang's Academy Award–nominated documentary The Warriors of Qiugang. The movie was distributed online by the environmental magazine Yale Environment 360, and the exposure helped the villagers' cause gain support at the highest levels of power in Beijing. It is a commentary on the tangled politics of China, and the lightning pathways of the information age, that the most direct route from the villagers' lips to their countrymen's ears went through New Haven.
Lennon and Yang, who had won a 2007 Academy Award for a documentary about AIDS in China, heard about Quigang in 2007 and sent a cameraman. When they saw the initial footage, they realized, says Lennon, "we were onto something very big."
Lennon and Yang had typically broadcast their films on television, but they wanted to reach a different audience. So Lennon placed a call to the editor of Yale e360, who happened to be his freshman-year roommate. Roger Cohn '73, an award-winning editor formerly at Mother Jones, had returned to New Haven in 2007 to develop Yale e360, an online publication that covers environmental issues for a general audience. He watched a rough cut of Warriors in the summer of 2010 and promptly offered to underwrite its completion. In January, the movie went live on the website, and just over two weeks later, Warriors was nominated for an Oscar.
Almost immediately, a flood of illegal downloads began in China. One website recorded 25,000 downloads in a single week. "By the time the Chinese censors caught up to it, it's too late," Lennon recounts.
The movie had a dramatic impact. In March, the state-run Xinhua General News Service announced that the local government would conduct a $30 million cleanup of the river. A few days later, the English-language version of the newspaper China Daily, widely understood to be a mouthpiece of the government, called Warriors a "39-minute masterpiece."
Despite the success of Warriors, the future of the environmental movement in China is parlous. Yale e360 has reported that the government, as part of its recent crackdown on dissent, has been clamping down on environmental groups and activists.
Lennon worries, too, about the sustainability of documentary filmmaking. The Internet pays so little that revenues will continue to drop; it's "a medium without a revenue model." Still, he adds: "when you see that your film has had that kind of an impact, you're walking on air."