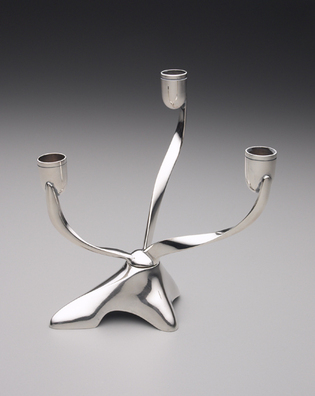 Yale University Art Gallery
A three-branched candelabrum for Reed & Barton by Robert H. Ramp, first offered for sale in 1950, was the result of a collaboration involving manufacturers, young designers, and Boston's Institute of Contemporary Art. The Yale University Art Gallery has both a specimen of the object and a design sketch by Ramp. View full image
In the 1970s, when others were collecting Chuck Close '64MFA, Christo, and David Hockney, John C. Waddell '59 started buying Donald Deskey, Walter Dorwin Teague, and Walter von Nessen. Those last three names aren't as famous as the first three, but they represent some of the leaders in American design of the modern period, a field in which Waddell ultimately became one of the three most important collectors. After giving collections of photography and decorative arts to the Metropolitan Museum of Art, he has now promised an extensive collection of over 150 objects designed between 1925 and 1940 to the Yale University Art Gallery, propelling it to the forefront of institutions with far-ranging American decorative arts collections.
To celebrate Waddell's gift, the gallery has published a book combining the items from his collection with its other impressive holdings in modern textiles, silver, glass, metal, and furniture pieces. A Modern World: American Design from the Yale University Art Gallery, 1920–1950 (Yale University Press) adds an invaluable resource to the field of American decorative arts, tracking the adoption of modernism in this country through objects both unique and mass-produced. From American Airlines' silverplate flatware—with handles shaped like DC-3s—to an astonishing 1939 manufactured glass chair by Louis Dierra, the book is a significant resource for scholars. It's also a dream to dabble in for anyone interested in the stories objects tell. (An installation of some of Waddell's gifts, focused on the 1930s, is on display at the gallery through March.)
Even the gaps in the collection underscore its strength. It includes some seven pieces by Paul T. Frankl, an emigré architect from Vienna turned popular furniture designer, but not the skyscraper bookcase for which he is most known. Similarly, there's the plywood leg splint by Charles and Ray Eames that launched a thousand bentwood chairs, but only two other items by the inimitable duo. The message is clear: the emphasis here is on early groundbreaking designs, not star-turns. American manufacturer Reed & Barton's modern organic candelabrum, designed by Robert H. Ramp, is a stunning case in point. Both sleek and sinuous and made of electroplated nickel, it is the result of a 1948 initiative by Boston's Institute of Contemporary Art to pair young designers with manufacturers.
A Modern World does not treat its subject as art objects under glass but rather as articulate players in the drama of how modernism was absorbed into American culture. Reading that the Museum of Modern Art invited Amelia Earhart to choose her favorite piece in the Machine Art show of 1934 (a steel spring), or that Macy's decided in 1927 to educate shoppers on how to identify well-designed modern objects (via an in-store exhibition that attracted over 50,000 people), one learns about a past that was curious and receptive about design innovations. Even the much-ballyhooed genius of Apple Computer today, with its philosophy of getting ahead through design, was anticipated in a 1934 magazine article that noted: "The basic case for industrial design may be oversimplified thus: whenever two products are equal in point of utility and price, the one that looks most attractive to the purchaser will be bought first." So true. But we also must count on forward-looking collectors like Waddell, who have the eye to recognize and follow how constantly society changes its definition of attractive.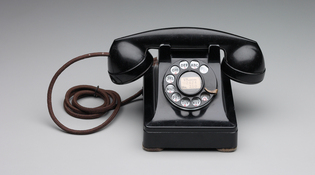 Yale University Art Gallery
The Bell Model 302 telephone became so ubiquitous as to seem invisible, but when it was introduced in 1937, it was an ergonomic innovation, based on extensive research by designer Henry Dreyfuss. View full image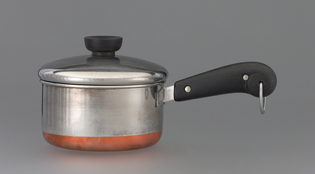 Yale University Art Gallery
Equally familiar is designer William Archibald Welden's line of Revere Ware cookware in stainless steel, copper, and Bakelite plastic. Introduced in 1939, the gently curved pots and pans are still being manufactured today. View full image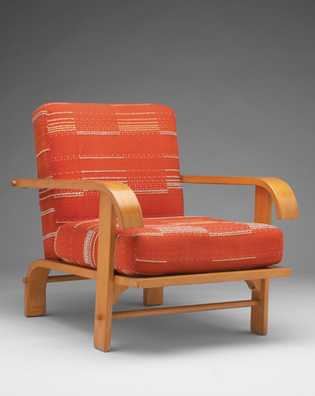 Yale University Art Gallery
Designer Russel Wright designed this birch armchair in 1935 as part of a line of furniture he called "American Modern"—intended, he wrote, "to express in the twentieth-century manner the simplicity and frank construction of American Colonial furniture." View full image