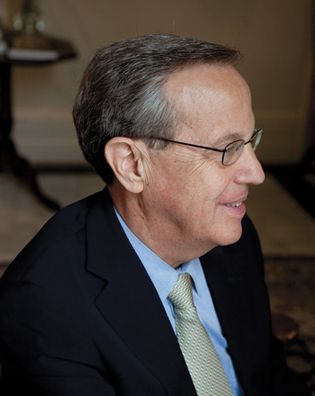 Mark Ostow
Y: How close are you to opening the new Yale-NUS College in Singapore?
L: We're going to take 150 freshmen to start in fall of 2013. Ultimately the college will have 1,000 students.
Y: When do you begin selecting those 150 students?
L: Because Singaporean males have a national service requirement to fulfill before college, we are offering admission to both Singaporean men and women this academic year, to be deferred until 2013. International recruitment starts in earnest this summer.
Y: And the faculty?
L: More than 2,000 candidates from all over the world are seeking appointment to the faculty. We expect to hire about 50 before the college opens in 2013, with the number growing eventually to 100. We have been delighted that many of the applicants are tenured scholars and outstanding teachers at leading research universities and liberal arts colleges. Since August, we have been bringing groups of candidates to New Haven and Singapore for three-day workshops to get the benefit of their experience and advice on our ideas about curriculum, faculty, and residential college life. By this method we get a sense not only of the candidates' intellectual and pedagogical skills, but also of their ability to work collaboratively. The first cohort of faculty will not only be scholars and teachers; they also need to be committed institution builders for this exciting new venture to succeed. We have been thrilled to see how excited these faculty candidates are to embrace and help advance the innovative curricular ideas that we have developed.
Y: The trustees of Yale-NUS have been appointed. [See http://news.yale.edu/2011/11/21/yale-nus-college-announces-governing-board.] The chair, Singaporean businesswoman Kay Kuok, talked with Singapore's Straits Times about Asians' concerns with the liberal arts degree, which is novel in the region. She said career concerns are the main issue, but people are also troubled by the word "liberal." She said, "We must look at 'liberal' in the sense of broad, rather than free. It's freedom of thought; I'm not necessarily saying freedom of expression. … Everyone has a right to express himself. It's a question of expression in the right way, within certain norms in society."
L: Understanding that cultural norms are different is part of the value of this experiment. In Singapore, it is illegal to express racist or intolerant positions publicly. Here in the United States, some of our university peers have speech codes. At Yale we defend the right of people to express even the most odious thoughts, but we also convey to our students that communities are most successful when people respect one another.
Y: Under Yale's agreement with NUS, professors and students will have freedom of expression on campus and for scholarly work. What if a student says something critical of the government, and another student reports it? Or what about student groups—could there be a gay students' association?
L: Students will be free to criticize the government. There are scholars at NUS now who write articles critical of the government, and there are plenty of critical blogs. Students will be able to form associations, including a gay students' group, as long as they are not intolerant of racial or religious groups.
Y: Yale isn't funding the college, but Yale is putting a lot of time into it. How do you ensure it's not drawing too much time and energy away from Yale, especially if problems arise there?
L: It's a balancing act. We are searching for a president, who will have direct responsibility for the new college. Once he or she is in place, the load on high-level administrators at Yale will diminish. In the early years, we will continue to need the close involvement of a small number of Yale faculty to lead the hiring of Yale-NUS faculty. We will continue to be involved in admissions until we are confident that we have built a strong and self-perpetuating admissions culture that evaluates the whole person and not just examination scores. And we want to establish a residential college culture. Making Singapore a success requires a serious commitment of a dedicated team of faculty and administrators. But in all these areas I mentioned, the burden on Yale personnel will diminish over time.
Y: How will you know when you can say, OK, this is a successful venture?
L: Evaluating true success will take a long time. It will take decades to know whether we are creating leaders for Singapore and for Asia, and whether we are creating a distinctive type of person who can think critically, flexibly, adaptively, and creatively, and is committed to serving society. We will also want to assess whether we are succeeding in inspiring others in Asia to embrace liberal education. Shorter term, we will ask: are we attracting the highest caliber of students and faculty? And are we satisfied with the educational experience we are offering?
Y: Do you have on your list pushing the envelope on free speech in the region?
L: The educational objectives that I just mentioned come first. Beyond that, I believe that we have much to contribute to the region's development, but we also need to recognize that we have much to learn as well.