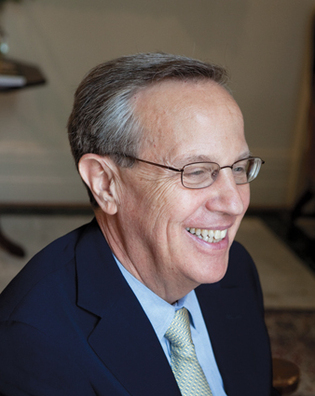 Mark Ostow
Y: They're starting to put the glass up on SOM's new building, and it's spectacular. Is it fully funded yet?
L: Essentially, yes. We are still looking for some gifts, but SOM is prepared to carry some debt, if necessary. We went ahead with construction when we were within $20 million of the funding target—and the building is so spectacular that I am confident that we'll raise funds sufficient to eliminate any need to take on debt.
Y: SOM's mission includes the social role of business. You have a new dean as of last July, Ted Snyder, who came from Chicago, a very traditional business school. How does he feel about that mission?
L: Ted Snyder understands that there is a distinctive advantage to Yale's approach. We are a school that educates leaders who will excel in business but also have a sense of the larger concerns of society. Our approach resonates at a time such as now when there is a significant crisis of confidence about business pursuing only its self-interest. The dean is implementing a new program focused on ethics and leadership. And, very centrally, he aims to have the school participate more in the intellectual activities of Yale's other professional schools, such as law, environment, and public health, as well as the arts and sciences—to develop cross-disciplinary capabilities among business leaders.
Y: The school is planning to increase enrollment. How do you do that while still taking the same quality of students?
L: We attract very good students now, with GMAT scores that rank among the top three or four schools in the country. We believe that both the new building and Dean Snyder's initiatives will attract an even larger number of high-quality applicants. But we will not expand enrollment any faster than the quality of the applicants warrants. The medium-term target is to raise class size from about 220 to 300 in the core MBA program. The new building will permit it to go to 350.
One way that enrollment will be increased is through a new one-year degree, master of advanced management, more or less parallel to the Law School's LLM degree. Dean Snyder's idea is to take a group of graduates of international business schools—growing to perhaps 40 students a year—who want the benefit of an American-style business education. We're focusing this program initially on students from a network that Dean Snyder is building with some 20 schools, including Insead, the London School of Economics, and Fudan University's business school in China, as well as top business schools in Spain, Brazil, Indonesia, and other countries.
Y: You have long wanted to improve SOM's reputation. In a 2007 article for us, the New York Times's David Leonhardt ['94] wrote that SOM rarely cracks the top ten. US News and World Report ranked it tenth this year. How's it doing?
L: Our aspiration is to rank among the top five, where all of our other professional schools are. We want to get there on the strength of improved programs and a growing reputation. It's not going to happen overnight. We want employers in all sectors—including Fortune 10 companies, McKinsey, and the big banks—to say that they like to get their recruits from Harvard, Stanford, Wharton—and Yale. That's the league SOM should be in.