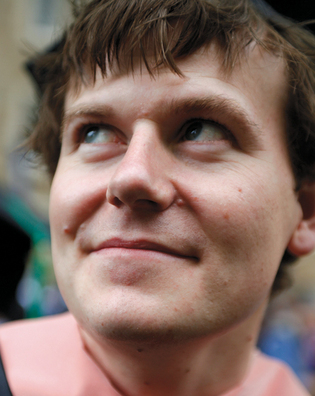 Mark Ostow
Petter Risøe
Oslo, Norway
MPH, School of Public Health
Was Yale as you expected?
I had a very good time. When I picked it, I liked the fact that it's so much smaller than the other public health schools. I feel like I know a big proportion of the students at the school, and faculty, and you bump into each other all the time, which is nice.
How did you change while you were here?
I'm at a completely different level in terms of research skills, in biostatistics and epidemiology. I got motivated to learn more public health. I got a lot of friends. I switched teams! I used to be Harvard, and now I'm definitely Yale. It's always going to be Yale all the way.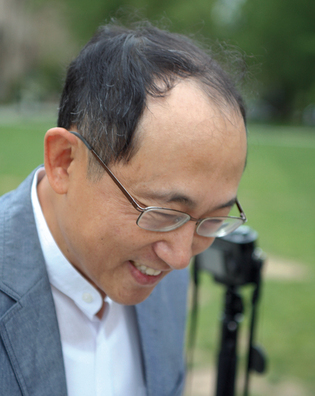 Mark Ostow
Hyeon Kim
Seoul, Korea
father of Young Kim, Berkeley College, Chinese literature
How did your daughter come to choose an American university?
Entering university is a very, very hard thing for Korean high school students: all Korean high school education is focused on how to enter a good university. I didn't like it. And my daughter also didn't like it. So I [allowed] my daughter not to have to go to a good university in Korea. I encouraged her to do what she really liked to, and at that time she was very deeply into drama. She was a member of the drama club of her high school, an English drama club. She did a very important role in Fame, and [acted in] Grease.
During the activity in drama club, she was getting interested in American culture and the life of American students. And she made good progress in English, and so we encouraged her to go to university in the United States.
Did your daughter become Americanized?
I don't think so. As much as she saw the good things in America, she also saw many other things. The most important thing is she is aware of the diversity of many different kinds of cultures.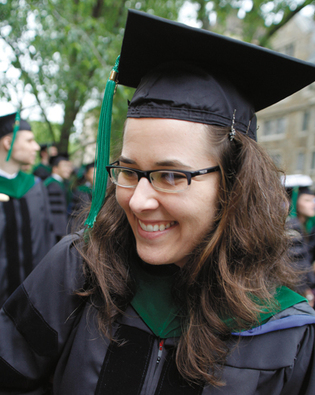 Mark Ostow
Charisse Orme
Mission Viejo, California
MD, School of Medicine
You're getting your MD?
MD, PhD.
Wow.
Eight years later! Actually, I got my PhD last year.
What do you plan to do next?
I am staying here for my preliminary year internal medicine residency, and then I am going to NYU for a dermatology residency.
What drew you to dermatology?
Gosh, I love it. It's such an accessible organ—it's amazing—and this makes it easy to study. I want to have a lab. I'm going to study autoimmune diseases of the skin.
Why are you interested in autoimmune diseases?
Those are the patients that inspire me the most when I walk into the room. The drugs that we use to treat them are so blunt-force that we have to find better ways to help them.
People tend to be kind of prejudiced against people going to dermatology. They think it's just lifestyle. But dermatology is actually a very fascinating, complicated field, and very rewarding.
Why?
Everybody sees the skin, and if you have a problem with it, it affects both your health as well as your interaction with the world. That has a huge effect on a person's self-esteem, their quality of life. So if you can do something to help them, you can make a huge difference in their life, in every way.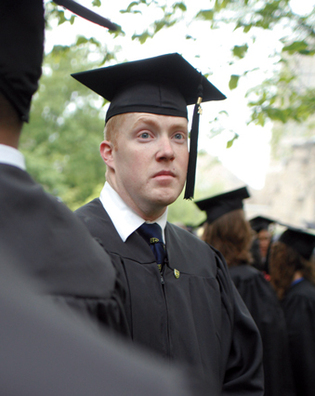 Mark Ostow
A Long Walk to the Podium
Brett Smith's parents waited uneasily to hear their son's first words as he recovered from a horrific car crash. "They were afraid I was only going to say cuss words," he recalls. When people with brain injury first find the means to express their frustration, they often curse.
As it turned out, Smith's first word after weeks of struggling to speak was "Mom." His mother had just opened the door to welcome him home for a break from the rehab center. When she heard him speak, he recalls, "she cried for a long time."
Smith, a Nebraska native, played football for Yale in his freshman year in 2002. In January 2003, he was in an auto accident on I-95 with eight other students returning from a fraternity event in New York. Four students were killed. "I was going to follow as the fifth fatality," he says. "But luckily I was only in a coma." Nine years later, at age 28, Smith walked with the Class of 2012 and will officially graduate at the end of the first summer session, when he completes a final half credit.
Smith says his parents' encouragement and his sense of humor have helped him persist during years of physical therapy. He's still working diligently to regain full use of his right hand. "Things don't come easily for me now," he says. "That doesn't mean I give up and watch TV."
Smith had planned to follow his father into orthopedics. Now he intends to be a rehabilitation physician. He imagines his patients thinking: "'This guy was in the same boat I am in, and look at him now.' That will give them hope."
At Class Day exercises, Brett Smith received the Amanda Walton Award, for an athlete who has excelled in competition or "transcended unforeseen challenges"; and the David Everett Chantler Award, for a student exemplifying "courage, strength of character and high moral purpose." Students and their families gave Smith a standing ovation.