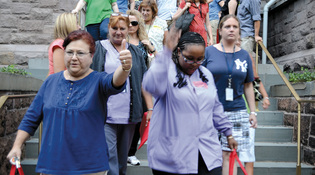 Melissa Bailey '04/ New Haven Independent
Clerical and technical workers in Local 34 leave Battell Chapel after approving a new contract in June. View full image
Cementing nearly a decade of labor peace, Yale and its two largest unions have signed new contracts that include raises and advancement opportunities, along with money-saving changes to health care plans. The unions, locals 34 and 35 of UNITE HERE, ratified the four-year contracts on June 27, six months before the existing agreements expire. Those existing agreements were also concluded ahead of their deadline in 2009—a stark contrast to the protracted, strike-riven negotiations of decades past.
Along with raises of 2.5 to 4 percent annually, the most important part is "the job advancement opportunities," says Laurie Kennington '01: "all the things that people need to climb the ladder and create entry-level openings for folks in New Haven."
Kennington is president of Local 34, which represents about 3,500 clerical and technical workers. The 1,200 service and maintenance workers of Local 35 won slightly lower raises but more job security, according to the online New Haven Independent.
For Local 34, advancement is a key issue. The new contract sets a goal of promoting from within for two-thirds of the openings in certain job categories, Kennington says. Adds Bob Proto, president of Local 35: "Respect for our work has been a core issue for our union. With this contract, the university has demonstrated its respect for the union and its willingness to listen and work collaboratively."