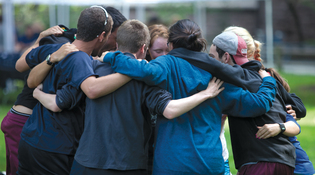 Mark Ostow
Freshmen returning from a hike with FOOT—Yale's Freshman Outdoor Orientation Trips—indulged in one more bonding experience on Old Campus. View full image
I am delighted to join Dean [Mary] Miller ['81PhD] in welcoming you, the Class of 2016, to Yale College. I want to welcome also the relatives and friends who have accompanied you here, and especially your parents. As a father of four college graduates, I know how proud you parents are of your children's achievement, how hopeful you are for their future, and how many concerns—large and small—you have at this moment.
Let me try to reassure you. Your children are going to love it here! And I expect that you are going to enjoy your association with Yale, whether you are a returning graduate or one of the vast majority of parents who never set foot in New Haven until your children started to think about where to go to college. You may take comfort in learning that surveys have shown that Yale parents are the most satisfied in the Ivy League. So, welcome to the Yale family! We are so pleased to have your children with us, and we will do our best to provide them with abundant opportunities to learn and thrive in the four years ahead.
And to you, Class of 2016, welcome. I suspect that you have many reasons for being here. You may have chosen to attend Yale College because you heard that it was a place that attracted unusually talented and interesting students. Perhaps you were impressed by the depth and breadth of our 2,000 course offerings. You may have been drawn to the idea of residential colleges, communities that are microcosms of the student body and inspire lifelong loyalty. You may have learned about the diverse array of undergraduate organizations devoted to politics, debate, journalism, and community service—organizations that will give you a chance to develop your skills as leaders and as collaborators. You may have been drawn by Yale's superlative undergraduate arts organizations: from chamber orchestras to dramatic societies, from dance ensembles to a cappella singing groups. You may have been recruited to one of our 35 varsity athletic teams, with their outstanding coaches and facilities. You may have learned about our commitment to sustainability and been interested in joining one of our environmental groups or working on the Yale Farm. Or you may have been excited by the extensive array of international experiences open to you as students in Yale College.
All of these are good reasons to find Yale a school worthy of four years of your time. But I thought that I might focus this morning on an aspect of Yale that you might not have considered: the special advantages of your having chosen to attend a college situated within one of the world's great research universities. This distinction means, first, that the faculty who will teach you are leading scholars in their respective fields, and, second, that you will have access to virtually unmatched library and museum resources.
Consider the extraordinary collections that are available to you in the Yale University Art Gallery, the Yale Center for British Art, and the Yale Peabody Museum of Natural History. Dozens of your professors in literature, history, the history of art, anthropology, geology, ecology, and evolutionary biology will make use of these museum resources in your courses, and perhaps some of you will join with other students in curating your own museum exhibit. Last spring, four undergraduates collaborated with curators and conservators at the Yale Center for British Art to study the materials and techniques used in the creation of early English wood panel paintings. They created an exhibit that was on display at the center from April through July. A year earlier, Yale students collaborated with others at the University of Maryland to create an exhibit on African American art drawn from Yale's collections that was shown both at our art gallery and on the Maryland campus. Even if you do not engage quite so deeply as to curate an exhibit, I would urge you to visit our museums. You may discover a love of art or a love of nature that enriches your life.
Our libraries are an endless source of discovery for students who wish to engage in archival research. You will find materials there that allow you to undertake projects that go far beyond what might be possible elsewhere. Some years ago, one undergraduate discovered in the uncataloged papers of a deceased professor that a faculty organization called the Yale Library Project had provided cover for an important World War II intelligence mission. Just this week, I learned from a high school student working in the archives of the Beinecke Library about his discovery of the methods used by late-nineteenth-century railroads to finance their sale of farmland to settlers in the northern plains of the United States. It turns out that the railroads' strategies for helping landowners remain on their farms during periods of financial hardship were much more effective than our efforts to protect homeowners from foreclosure during the current recession.
Consider next some examples of the astonishingly creative and original work of the faculty who will be teaching you:
Earlier this year, John Lewis Gaddis, a professor of history, won the Pulitzer Prize for his brilliant biography of George Kennan, the diplomat and architect of US strategy in the Cold War.
A group of scientists led by Rick Prum, a professor of ecology and evolutionary biology, was able to deduce from fossils the colors of feathers on a dinosaur.
Geologist Zhengrong Wang has demonstrated that carbon can be captured from the atmosphere and sequestered, not in gaseous or liquid form beneath the earth's surface, but in solid form, by catalyzing a reaction to transform subsurface rocks into calcium and magnesium carbonate. This is one of several technologies that Yale scientists are pursuing in the hope of finding solutions to the problem of global warming.
Historian Timothy Snyder has shown in his recent bookBloodlands the ideological and practical connections between the Nazi extermination of Jews and other east Europeans and the Soviet extermination of the same populations.
In her pathbreaking work The Ornament of the World, María Rosa Menocal demonstrated that the Middle Ages in Spain were not a time of darkness and superstition, but a period in which Muslim, Christian, and Jewish literature, philosophy, and architecture flourished and profoundly influenced one another.
In the Western Desert of Egypt, archaeologist John Darnell has unearthed a lost city—the site of a massive bread-making industry more than 3,500 years ago.
And finally, your dean, Mary Miller, has just given you [in her address] a glimpse of her immense knowledge of Mesoamerican history, art, and culture. In her own work of rediscovery, she has employed infrared photography to produce enhanced, high-definition images of the Mayan murals at Bonampak and used these images as a platform for her seminal reinterpretations of Mayan art, architecture, and civilization.