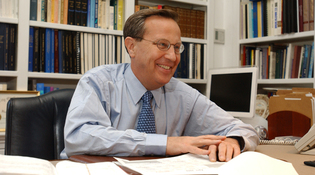 Yale University
One of the most extraordinary things about Rick Levin is the fact that five people who worked closely with him became presidents of Cambridge, Oxford, Duke, MIT, and Yale. That is absolutely unprecedented. Could I put my finger on a particular thing that leads to something like that? No. But everybody around Rick sees his intelligence and his open-mindedness—his eagerness always to gather the facts before he decides what he's going to do. So you watch him function, you watch him think, and I think that rubs off on people around him. He also has a keen eye for people. He attracts people who have great talent and can take it to the next level.
Because he's an economist, he's very facile with numbers—and a lot of what you're doing in running a place like Yale is managing a budget. I sat various times with the presidents of Harvard and Princeton, and I was shocked that they weren't knowledgeable about their own budgets. Rick is all over those kinds of details.
And then, he's a visionary. He loves the romance of internationalizing Yale—taking Yale to China, to Singapore, to India. I suppose, if you wanted to criticize Rick, you would say he didn't have that big a presence on campus with the kids. But he has a huge presence internationally with the rest of the academic world. Yale's history is that it moved from a local university step by step to a national university, and now it needs to take the final step of being an international university. From the Center for Globalization to internships for the students, he made good on that vision in many ways.
The other thing that shouldn't be ignored is that, as goes the endowment, so goes your presidency. Rick was president for exactly 20 years. The endowment rose for exactly 15 years. For 15 years, whatever he wanted to dream about he could make happen. The last 5 years he had a completely different presidency. He was fighting against big holes in the budget, he was cutting, he was trying to keep morale up. But he was good both in the 15 rich years and in the 5 lean years. He was just terrific for Yale.