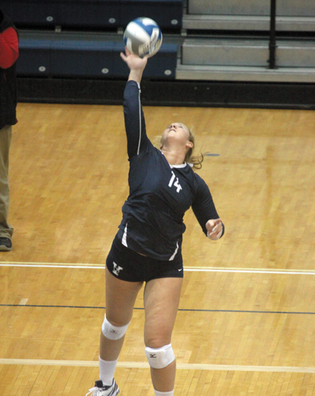 Chrisopher Shannon
Kendall Polan '14 helped Yale win four straight conference championships in volleyball. View full image
Volleyball
On December 6, in University Park, Pennsylvania, the most successful class in Yale volleyball history walked off the court together for the final time. The Bulldogs had just been knocked out of the opening round of the NCAA tournament by Utah—their third straight first-round exit from the tournament—but no loss could dim this team's glory.
Yale entered this season with high expectations after an undefeated conference season and a third straight Ivy League title in 2012. But coach Erin Appleman made sure that this team was not finished. "I stressed that we still had goals to meet," Appleman says. "I challenged them to play higher, and they were extremely focused from the first day."
Returning all but one player from last year's squad, Yale rattled off nine straight wins (dropping only four sets) to open the Ivy League season and set a conference record with 23 consecutive Ivy victories going back to last year. A 3–2 loss at Harvard snapped that run, but it was the only blemish on Yale's journey to a fourth straight Ivy League title.
Captain Kendall Polan '14 has been a key part of each of those championships, and this year she became the first volleyball player ever to win Ivy League Player of the Year three times. "I've never coached another player who exhibited so many different skills," Appleman says. "She always finds ways to win, and she does it from such a humble standpoint. She would give up all the accolades if it meant more wins for the team."
Women's golf
Every year, freshman athletes face the dual task of adjusting to college life and the new challenges of collegiate competition. The transition "always takes time," says women's golf head coach Chawwadee Rompothong '00. Apparently, no one told Elisabeth Bernabe '17 or Sandy Wongwaiwate '17. Although Bernabe acknowledges that it was hard to get used to the New Haven weather after coming from sunny Anaheim, California, she and her fellow freshman took no time making their mark on the Yale program.
In the team's first tournament of the fall, Bernabe blitzed the field on her way to a 3-stroke individual victory that helped Yale to a dominant 23-stroke win. The next week at the Yale Invitational, Bernabe and the Bulldogs reprised their performance, as the freshman won her second tournament in two tries and Yale defended its home course with its second first-place finish of the season.
The next week it was Wongwaiwate's turn to lead the team, and she delivered an even-par performance, good for second place, as the Elis took second as well at the Nittany Lion Invitational. Wongwaiwate says it has been helpful to have another freshman playing a major role as she finds her own place on the team this season. "We're close friends and we push each other to do better and work harder in every tournament," she says.
On the final week of the fall season, the two matched each other stroke for stroke and finished as part of a three-way tie for first place for Yale at the Sacred Heart Fall Classic. Now that they've settled in, perhaps this spring the pair can help lead the Bulldogs to their first Ivy championship since 2011.