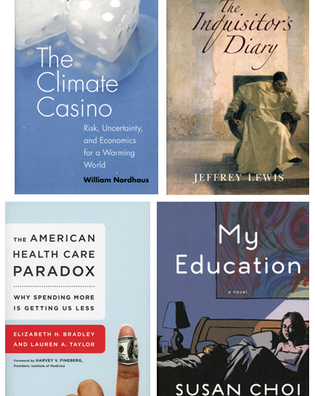 My Education
Susan Choi '90
Viking Adult, $26.95
Reviewed by Claire Messud '87
Claire Messud '87 is the author of numerous novels including, most recently, The Woman Upstairs.
My Education, Susan Choi's arresting new novel, rewrites the traditional bildungsroman. Regina Gottlieb, a young grad student, is first attracted to her professor, Nicholas Brodeur; but that attraction will prove wan beside the allure of his wife, Martha.
The intensity of young love, the hermetic campus life and its isolated graduate students, the apparent glamour of adulthood to the newly grown—Choi compellingly and convincingly conveys this world. But she doesn't stop here: Regina tells her story from the relative calm of midlife, when she is a writer, married and a mother. Thus Choi, who writes beautifully, evokes not only the young Regina's breathless urgency and blind self-involvement, but also the wiser, stabler perspective of her maturity.
Fifteen years have elapsed between the novel's events and its denouement. Choi's great accomplishment is to enable us to experience Regina, and her story, both in the present and in the past; to feel her passions' overwhelming, devastating force and the tender, generous near-nostalgia that remains years later.
Life is like that: our education doesn't end when we leave school, where everything was new and mattered so much. Nor should we forget or condescend to the visceral excitement of those years—they remain part of us.
The American Health Care Paradox: Why Spending More Is Getting Us Less
Public Health Professor Elizabeth H. Bradley '96PhD and Lauren A. Taylor
PublicAffairs, $26.99
Reviewed by James Ledbetter '86
James Ledbetter '86 is the opinion editor for Reuters.
On a per capita basis, the United States spends significantly more for health care than other OECD countries—yet its health outcomes are significantly worse. Authors Bradley and Taylor (the faculty director of and a researcher with the Yale Global Health Leadership Institute) illuminate the roots of this paradox with a skillful blend of history, statistics, and on-the-ground stories from doctors, social service providers, and patients.
A clue can be found by examining the areas where the United States lags, such as low birth weight (28th out of 34 OECD countries in 2007) and infant mortality (31st). The problem, Bradley and Taylor argue, is not on the medical treatment side. It lies in a social realm that exists just outside the sphere of what gets counted as health-care spending, yet plays a crucial role in making people sick or well: housing, nutrition, education, and unemployment support. In those areas, other countries far outspend the United States. And therefore, the paradox is better framed as a demand issue: America spends more on health care because poverty is more widespread and makes its citizens, on average, sicker and harder to care for than citizens of other industrialized countries.
While sobering, the book is not pessimistic. Bradley and Taylor find effective and inspiring examples from the local and international level. The key, they argue, is to treat health as part of a holistic spectrum, encompassing economic and mental well-being as well as more traditional views of physical health. The challenges to implementing such solutions are, however, as much political as they are economic and technological.
The Climate Casino: Risk, Uncertainty, and Economics for a Warming World
William Nordhaus, Sterling Professor Of Economics
Yale University Press, $30
Reviewed by Neela Banerjee '86
Neela Banerjee '86 covers energy and the environment for the Los Angeles Times.
Economist William Nordhaus '63 knows the knocks against him when it comes to discussing climate change. To those who dismiss it as a vast left-wing hoax cooked up to wrest away money and power from the United States, the fact that Nordhaus accepts man-made climate change makes him another heedless alarmist. To those deeply troubled by the implications of the heat-trapping carbon dioxide humanity pumps into the atmosphere, Nordhaus is not worried enough.
Nordhaus embraces that dual role in his new book, The Climate Casino. Early on, he says the book is for the majority of people stuck somewhere in between the warring camps and searching for an unbiased review. He carefully sifts through the science, the adaptation strategies, the potential effects of climate change, the range of response options. In his effort to remain dispassionate and methodical, Nordhaus has produced a dry text. But those who stick with the book stand to learn a great deal, especially in the later chapters' discussion of economic initiatives that could drive down emissions, such as a tax on carbon dioxide.
Nordhaus's call to act, however restrained, acknowledges what those who follow climate science closely already know: that in this casino, the warming atmosphere loads the dice against us.
The Inquisitor's Diary
Jeffrey Lewis '66
Haus Publishing, $18.47
Reviewed by Alex Beam '75
Alex Beam '75 is the author of the book American Crucifixion, about the Mormon prophet Joseph Smith. It will be published later this spring.
Jeffrey Lewis '66 may be one of the best writers you have never heard of. He spent most of the 1980s working on the TV series Hill Street Blues and left Hollywood with two Emmys and a Writers Guild Award. Now he writes fiction.
Lewis's latest novel, The Inquisitor's Diary, delivers smooth prose, an exotic setting, and dark spiritual dilemmas—as if Franz Kafka wrote for, say, Hill Street Blues. The diary of the title belongs to Fray (Brother) Alonso, a 13-year veteran of the Holy Office of the Supreme and General Inquisition in the colony of New Spain (that is, present-day Mexico and beyond).
In 1649, Alonso is bored and ambivalent about the Inquisition's mission; Jews and "judaizers," meaning fake converts who may have kissed the Christian cross to avoid perishing, are few and far between in the New World. Angling for a promotion back to Spain, Alonso agrees to lead an expedition to the "northern regions," up to present-day Santa Fe. The Inquisition wants victims whom it can try, relieve of their assets, and torture and burn, if necessary.
Alas, the ambitious and tormented Alonso returns from his lengthy journey with only one candidate, a deaf man whom he suspects of "judaizing." The case is far from airtight, as Alonso knows, but once delivered to the Inquisition, the Dumb One follows a grisly path well trod by innocent men before him. Lewis has produced an exquisite story of spiritual torture and historical witness that leaves no one—including the reader—unscathed.