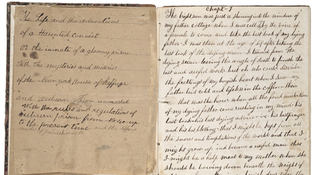 Beinecke Rare Book and Manuscript Library
This manuscript, dated 1858 and likely written by Austin Reed, a free black man from Rochester, New York, detailed a regime of severe corporal punishment within the American criminal justice system. View full image
In 2009, the Beinecke Library's James Weldon Johnson collection acquired a holograph manuscript entitled "The Life and the Adventures of a Haunted Convict." It is dated 1858 and attributed to "Rob. Reed." I've been working with Yale curators and an expert genealogical researcher, Christine McKay, to investigate this extraordinary document. New York State records suggest that the author was Austin Reed, a free black man from Rochester, New York, who spent much of his life serving time for arson, larceny, and other offenses. Reed's memoir, probably composed in New York's Auburn State Prison in the 1850s—a time of radical changes in the American criminal justice system—is the first known prison narrative by an African American writer.
The manuscript is 304 pages long. Its extended title is typical of nineteenth-century narratives: "The Life and the Adventures of a Haunted Convict, or the Inmate of a Gloomy Prison, with the Mysteries and Miseries of the New York House of Refuge and Auburn Prison Unmasked, with the Rules and Regulations of Auburn Prison from 1840 up to the Present Time, and Different Modes of Punishments." The narrative is not a journal or diary. It was prepared for the general reader and composed for dramatic effect. One of its purposes is to expose the hidden violence of two new penal institutions.
Located in the Bowery in lower Manhattan and opened in 1824, New York's House of Refuge was the first juvenile reformatory in the United States. "Reader," Reed writes, "go with me while I take you by the hand and conduct you through every department of the House of Reffuge that stood in the bowry." During his time there in the 1830s, Reed learned to read and write and was trained to labor in the workshops, building furniture—but he also endured severe corporal punishments. His narrative describes the cruel treatment of the inmates and the sustaining friendships that developed within the walls.
Auburn State Prison (opened 1816) was one of the most famous early penitentiaries in the United States, and Reed knew that the public would be eager to hear the sensational details of life inside. He was recounting the story of his own experience, but above all, he was protesting the exotic, often brutal punishments inflicted on those who broke the rules. He gave special attention to the use of the whip, or "cat of nine tails": "The Sufferer feels as though he had been bitten by the bite of a dog or been Scratch by the paw of a cat." Reed suggested that New York, whose reformers prided themselves on their enlightenment and their humanity, had much in common with the slaveholding South.
My research on Reed and his story continues, and I am preparing the narrative for publication with Random House. I look forward to the conversations that this haunting narrative is bound to provoke.