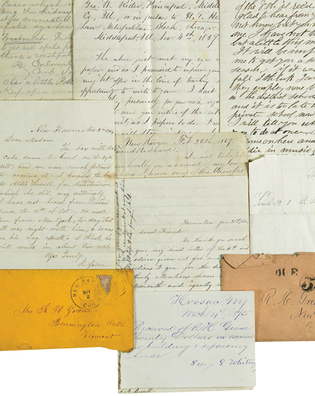 Courtesy Swann Auction Galleries
Letters to and from Richard Henry Green led to the discovery that he graduated from Yale in 1857. View full image
In 1874, Edward Bouchet became the first African American to graduate from Yale College. Or so the university's histories tell us—and we've reported it ourselves more than once. Yet that very year, a Quaker publication from Philadelphia recognized an earlier pioneer: "The first colored graduate of the Academical Department of Yale was Richard Henry Green, in 1857."
Green, a New Haven native who died in 1877 at age 43, had been lost from Yale history. Now he has been found again, thanks to research by Rick Stattler, Americana specialist at Swann Auction Galleries in New York City. Stattler had acquired on consignment a collection of Green family papers—papers that he and the owner thought at first were of "minimal value"—which indicated that Green was a Yale graduate. Then he started looking up census records and discovered that Richard Henry Green was an African American pioneer at Yale. "I don't think I've ever made a find of this kind of historical significance" at Swann, he told us.
Green is significant not just for Yale College, but for Yale as a whole. Previously, Courtlandt Van Rensselaer Creed '57MD was thought to be the first African American admitted by Yale: he entered the School of Medicine in 1854 and graduated the same year as Green. But Green entered one year before Creed. (The first African American who audited courses at Yale was James Pennington, a fugitive slave, minister, and abolitionist who sat in on classes at the Divinity School from 1834 to 1839.)
The Green papers have now been bought at auction and donated to Yale by Bill Reese '77. In this issue, Judith Ann Schiff explores Green's history and Mark Alden Branch '86 looks briefly at other aspects of the earliest African American history of Yale.