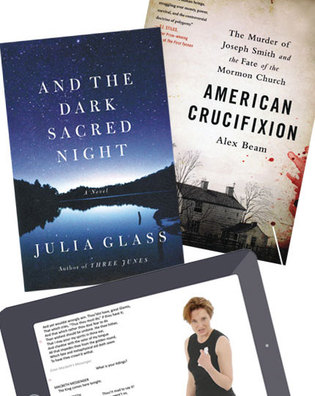 Macbeth, Read and Watch: Complete Text and Performance
A Midsummer Night's Dream, Read and Watch: Complete Text and Performance
Alexander Parker '88, publisher
WordPlay Shakespeare Series, The New Book Press, 2013; downloadable at thenewbookpress.com, $9.99
Reviewed by Christopher Arnott, a longtime New Haven theater critic and arts journalist.
If a story's really good, you say the action leaps off the page. In the case of WordPlay Shakespeare, a new series of enhanced books for electronic tablets, it's almost literally true.
In new editions of A Midsummer Night's Dream and Macbeth devised by The New Book Press, the left-hand "page" of each book shows you Shakespeare's script—while, on the right-hand page, actors perform those same lines. Opposite the text of the "Out, damn'd spot" scene, Lady Macbeth stares at her hands and laments, and the reader can start her, stop her, forward her, and replay her. The acted scenes were staged and filmed by The New Book Press itself. They are purposely sparse, with no set; the professional actors—including several Yale School of Drama graduates—are clad in modern street clothes, and they wander comfortably through an all-white playing space.
The publisher/CEO of The New Book Press is Alexander Parker '88, who tested his multimedia e-book concepts with a cookbook, a poetry book, and a yoga manual before deciding on Shakespeare. (Jessica Bauman '90 directed the plays-within-books.) Parker credits David Scott Kastan—Yale's George M. Bodman Professor of English, who fomented the semester-long, campus-wide "Shakespeare at Yale" celebration in 2012—as the company consultant and "friendly academic adviser" who "really crystallized this project."
There are other electronic features. Click the "Tap to Translate" function and you will see a modern vernacular paraphrase of the Shakespeare text. (Hermia's oath "Oh me, you juggler, you canker-blossom" is newly rendered as "Oh my god! You trickster! You rotten weevil!") Notes and highlights can be saved in a handy flash card format and shared via embedded social network apps.
WordPlay Shakespeare has found that sweet spot where a script and a performance can meet, without one overwhelming the other. This innovative approach, with its appealing design, makes classic drama as up-close and convenient as a Skype conversation or a YouTube video. By the flicking of our thumbs, something wicked cool this way comes.