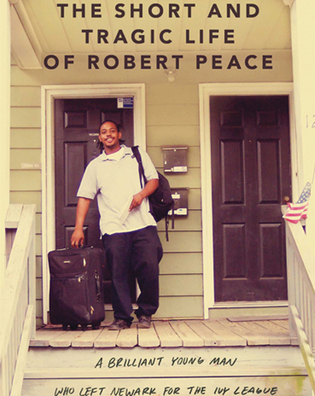 The Short and Tragic Life of Robert Peace: A Brilliant Young Man Who Left Newark for the Ivy League
Jeff Hobbs '02
Scribner, $27
Reviewed by Nicholas Dawidoff
Rare is the joy of encountering a superb new book and with it a memorable real-life literary character. By age three Rob Peace was known at day care as The Professor, for his vivid, searching mind. At home, when his mother read him books, he had them memorized after the first time. By junior high, Peace was the sort of kid who read Light in August for fun. He took college math and science courses in high school and was the leader of his class, chosen to resolve student conflicts. He went to Yale, Class of '02, and excelled at difficult pursuits—molecular biophysics and biochemistry; cancer research—while navigating the stressful problem sets posed by a background unimaginable to most Ivy League students.
Peace grew up in the dangerous slums around Newark, where his adored father, Skeet, was a day laborer and small-time drug dealer. Skeet considered penmanship to be among life's highest virtues, preached academic rigor to his preschool-aged boy—and taught him to use his elbows in a street fight. Skeet liked to take little Rob with him on his sidewalk rounds, interactions whose rhythms of parlay Peace found too appealing. Peace was still in grade school when Skeet fell into big-time trouble that derailed both his own life and eventually, in ways subtle and corrosive, his son's.
Left alone with his resourceful, poorly paid mother, Jackie, Peace grew up in deprivation such that when he joined his friends at Burger King he saved money by limiting himself to sucking on ketchup packets. Nonetheless, he thrived in high school and at Yale as a model student and a revered person. Possessed of persistence, self-control, and a penetrating emotional intelligence, Peace was a cherished friend both to men and women, a charismatic confessor—yet "incredibly skilled at not showing how he felt." Peace had survived childhood, he said, by "Newark-proofing" himself: fashioning a range of protective selves. Before he left New Jersey for New Haven, he had a sphinx tattooed on his bicep.
Peace was also, like Skeet, a self-destructive hustler. He was a leading Yale weed connect and later a street dealer who grew his own strain of designer marijuana. Given the book's title, it's not spoiling anything to say that Peace, who had the world's back but not his own, died young in a way that the many people who admired and cared about him found beyond troubling.
Jeff Hobbs was Peace's roommate at Yale, and Da Jeffrey, as Peace called him, wanted to understand his tragic friend's rise and fall. Hobbs was a prize-winning writing student at Yale and he is the author of a novel, and his information gathering was rigorous and dispassionate: he treated the brevity of Peace's life as a kind of crime that he sought to investigate. Then he sat down and distilled the many, many facts into stellar nonfiction.
The Short and Tragic Life of Robert Peace teems with lively characters: people from the neighborhood, high school water-polo teammates, college lovers, and workplace pals. They escort you into Peace's veiled worlds. (The moments when Peace counsels his high school friend Tavarus> after a fistfight and when he stands up for the validity of a wealthy Yale student's sufferings are both quietly unforgettable.) In a similarly understated way the book manages to cover ample topical ground—what happens to cities when highways are built through them, the infrastructure of single parent homes, and social dynamics among Yale's African American students. Hobbs's deeper concerns are emotional themes like self-pity, aspiration, loyalty, curtailed ambition, and "fronting," and it's all so carefully constructed that, from the first, the sense of impending tragedy is gripping, and then finally devastating.
One significant challenge Hobbs confronts is that of being an upper-middle-class white guy writing about poor black guys. I doubt many will wince. Instead, not only do you come to feel you know Peace's community, but you also think, along with Hobbs, about the nature of Peace's interactions. Hobbs makes Peace's story a version of every college student's experience, every young man's coming of age—just more extreme. The complexity of Peace's gift for friendship with women and parallel inability to sustain romantic relationships is handled with particular insight. A man of such intricate parts was Peace that, after a while, I came to think of him as a classroom version of shimmering urban playground legends like Joe "The Destroyer" Hammond, who skipped the NBA to sell drugs; and Earl "The Goat" Manigault>, who had it all, who was the greatest basketball player Kareem Abdul-Jabbar says he ever saw, but who likewise ruined himself.
Or did the world ruin Peace? The Short and Tragic Life of Robert Peace is a grave, important book. The death of a young black son of a single mother and an imprisoned father is a subject to which many Americans bring charged preconceptions. Hobbs knows this and he overcomes them—he deepens the crucial national conversation. Only those who simply can't feel sympathy for a drug dealer will be left cold. As for the rest, a common reaction will, I think, be anger for the brutal waste of it all. That anger will have something to do with another strong emotion. Da Jeffrey loved Peace, and so will you.
For many readers, this book will bring to mind Remembering Denny, the fine portrait by Calvin Trillin> '57 of an admired, tragic Yale classmate. Hobbs's is the superior work because it is so unusually intimate and humane. Excellent books are that way; they make you think of other excellent books. I thought often of two famous stories about talented, troubled young men, James Baldwin's Sonny's Blues and Norman Maclean's A River Runs Through It. Both conclude too soon for most readers.
With Hobbs it's the opposite. Two thirds of the way through, his account begins to feel a bit long, as though he couldn't bear to part for a second time with Peace. When he does let him go, the end comes abruptly. I wished for more authorial reflection on the book's unanswered core questions, but the sudden finish has the hand of logic. That's how it must have felt to people who knew Rob Peace.