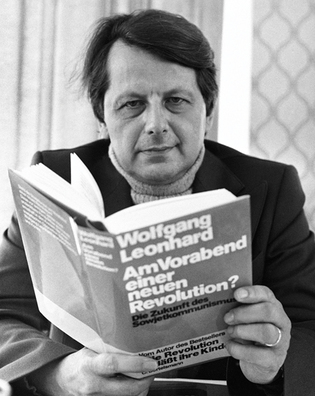 Associated Press
Wolfgang Leonhard, seen here in a 1975 photograph for the release of one of his many books, taught at Yale throughout the second half of the Cold War. View full image
In the 1980s, one of the largest Yale College courses was History of the Soviet Union—but nearly everyone called the course simply "Wolfgang." That was a testament to the campus-celebrity status of its professor, Wolfgang Leonhard, who influenced two decades' worth of Yale students with a narrative of Soviet history drawn both from his scholarship and from firsthand experience. Leonhard died on August 17 in Germany. He was 93.
Leonhard was born Vladimir Leonhard in Vienna in 1921. His parents, both writers, divorced before he was born; his mother, Susanne, would marry the Soviet ambassador to Austria and raise her son among left-wing thinkers. Young Vladimir (who later changed his first name) attended the Karl Marx Grammar School and joined a Communist youth group. With Nazism on the rise, Susanne sent her son to live in the Soviet Union.
There, Leonhard became an apt pupil of Soviet doctrine, moving in a circle of German expatriates with Marxist-Leninist sympathies. After World War II, he returned to East Germany with the goal of helping to install Communists in positions of power.
But Leonhard soon had doubts about this mission. His hopes that a non-Stalinist socialism could flourish in East Germany quickly dimmed, and by 1949, he later said, "it became clear to me we would become a province of the Soviet Union under Stalin."
So Leonhard crossed the Iron Curtain, later calling himself the "first dissident." His bestselling 1955 memoir, Child of the Revolution, was banned in East Germany.
Leonhard pursued an academic career, first at Oxford and Columbia. By 1966, he was teaching Russian and Communist history at Yale, a position he held until 1987. One early student was president George W. Bush '68, who later called History of the Soviet Union "one of my most memorable courses."
In his memoir, Decision Points, Bush remembered Leonhard's influence. "In his thick German accent, he described the show trials, mass arrests, and widespread deprivations," wrote Bush. "The class was an introduction to the struggle between tyranny and freedom, a battle that has held my attention for the rest of my life."
Upon the collapse of the Soviet Union, Leonhard returned to Germany, where he is survived by his wife, Elke.