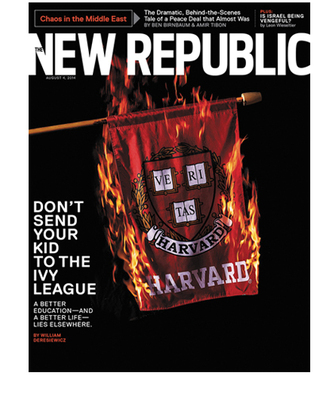 A provocative New Republic cover brought attention to William Deresiewicz's book this summer. View full image
When William Deresiewicz arrived at a Morse College master's tea in September to discuss his new book—which argues that elite colleges are recruiting and producing soulless students—he was still licking the wounds from a hostile Harvard visit two days before.
"It was an ambush," he said. "It was appalling." He was hoping for a warmer reception at Yale—maybe a legacy discount, since he taught at Yale before being denied tenure in 2008, and since his presenter was Morse master Amy Hungerford, his former colleague in the English department.
Deresiewicz got what he wanted: a challenging but polite discussion with an audience of about 120 students—or 120 "excellent sheep," as he calls students in the title of his book. Subtitled "The Miseducation of the American Elite and the Way to a Meaningful Life," it contends that Ivy League and other top-tier colleges are turning out talented students who are also "anxious, timid, and lost, with little intellectual curiosity and a stunted sense of purpose."
An excerpt from the book in the New Republic went viral over the summer, helped in part by a cover image of Harvard's flag in flames. It didn't go unnoticed at Yale, where some wondered who Deresiewicz was talking about.
"He paints these sort of broad-brush generalizations," says Davenport College master Richard Schottenfeld '71, '76MD. "What I hear and see [from the students] is just excitement about learning. And it's so contrary to this bleak, monolithic view of these deadened, sheep-like students who are marching toward careers."
Schottenfeld rejected Deresiewicz's contention that the Ivy League schools now exist to perpetuate the elite class. That hasn't been true for decades, he says, since Yale began need-blind admission and accepting students worldwide. "It's going to change the elite," he said.
At the master's tea, Deresiewicz repeatedly urged students to follow their passions, arguing that elite schools should help students to do that instead of sending half of them off to only four professions—law, medicine, consulting, and business. A leader needn't necessarily be a "big shot," he said, but someone willing to be unpopular when the need arises.
When Marissa Medansky '15 wondered aloud whether Deresiewicz was presenting himself as "a guru," he replied, "It sounds kind of puke-y, right?… I recognize that, in some sense, what I'm writing is self-help." But, he added, "I think people need help."
Nitika Khaitan '16 said she wasn't sure if what Deresiewicz sees as a de-emphasis of the liberal arts was anything new. Had she gone to college in her native India, she would be expected to choose a preprofessional track. "All I found at Yale is people who push against this. Yale gives so many spaces to do that," she said. "What else can the institution do? Maybe it's just the students."
Kevin Ogunniyi '16 wasn't convinced one way or the other by Deresiewicz's argument. "I don't think we students put him on a pedestal, just like we shouldn't put Ivies on a pedestal," he said.
Schottenfeld might have recognized that reaction. "Sometimes I wish they were a little more sheep-like," he jokes.