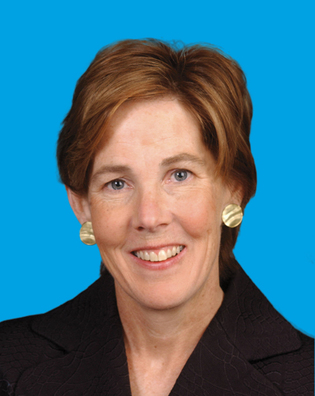 Yale University
Vice president Linda Koch Lorimer '77JD retired in April, though she will continue as a part-time counselor to the president through next year. View full image
Linda Koch Lorimer '77JD, Yale's longest-serving officer, retired as a university vice president in April. In announcing her leave-taking, the official news release required almost 3,000 words merely to hit the highlights of a Yale career that has run 29 years (so far: she will continue as a part-time special counselor to the president through 2016). "It is almost impossible to capture the breadth and depth of Linda's contribution to the life of this institution," President Peter Salovey '86PhD said in an e-mail announcement to the Yale community about her retirement.
After earning her law degree, Lorimer, 63, returned to the university the following year as assistant general counsel. Except for the years 1987 to 1993, when she served as president of Randolph-Macon Woman's College, she has spent her working life at Yale. She has overseen a wide variety of administrative units, including university communications efforts. (Lorimer is also a long-serving ex officio member of this magazine's governance board.)
She is perhaps best known for establishing the Office of New Haven Affairs in 1994, after the murder of Christian Prince '93 spurred Yale to step up its town-gown efforts. In the Yale Daily News, former New Haven mayor John DeStefano Jr. praised Lorimer's ability "to engage in the city in a different way, in a positive way, and in a constructive way."
The same could be said of Lorimer's more-recent efforts to internationalize Yale, such as bringing in more students from around the world and expanding the university's impact through online courses. She was also instrumental in establishing Yale-NUS College in Singapore—a partnership with the National University of Singapore that has been controversial because of the country's restrictions on free speech, but that Yale believes will be a trailblazer for liberal arts education in Asia.
Lorimer's tenure closely coincided with that of her former boss, President Emeritus Richard C. Levin '74PhD. When Lorimer was awarded the Yale Medal in 2008, Levin said that there was "no woman in Yale's history who has done more for the university."
"I have been given a remarkable set of opportunities," said Lorimer. "Most importantly, there has been the chance to serve—and serve a place that truly matters."