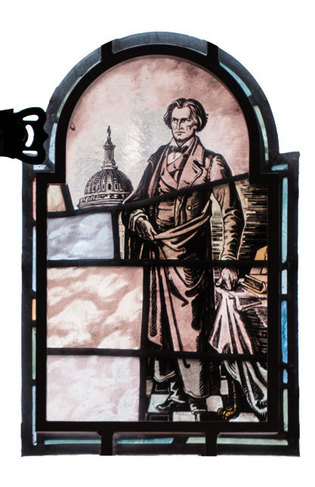 Mark Zurolo '01MFA
A window in the Calhoun common room depicts John C. Calhoun. A shackled black man kneeling at lower left was removed from the scene. View full image
The Confederate flag and other symbols of the Civil War South came under new scrutiny this summer after nine African American people were murdered in a South Carolina church by a white supremacist on June 17. It wasn't long before the debate came to Yale, where one of 12 undergraduate residential colleges is named for John C. Calhoun, Class of 1804, who is as well known for his full-throated defense of slavery as for his term as vice president of the United States and his leadership in the United States Senate.
Within days, writer and Connecticut radio host Colin McEnroe '76 had penned an article for the online magazine Salon calling for Calhoun College to be renamed. And a group of Yale law students began circulating a petition urging the Yale administration to change the name. As of mid-August, the petition had more than 1,450 signatures.
This was far from the first time the Calhoun name has been questioned. Many students and alumni have objected over the decades to the honor that was bestowed on a symbol of white supremacy. A 1997 report by a trio of graduate students highlighted not only Calhoun's ties to slavery, but also those of eight other men for whom Yale colleges are named. In the 1990s, after an undergraduate complained, a stained-glass window in the Calhoun common room depicting a shackled black man kneeling at Calhoun's feet was altered: the image of the black man was removed.
Last year, at a reunion of Calhoun alumni, a panel discussion considered the name and whether it should be changed. Then-master Jonathan Holloway '95PhD, who is black and teaches African American history, argued that the name should remain "as an open sore, frankly, for the very purpose of having conversations about this. I've seen too many instances where Americans have very happily allowed themselves to be amnesiac and changed the name of something and walked away."
But McEnroe countered in his Salon article that the conversations aren't happening. "It's not called Calhoun College So Let's Talk About That," he wrote. "It's called Calhoun College, and it's an easy feat to spend four years at Yale without ever having one of those 'teachable moments' about the background of the name."
Holloway, who is now dean of Yale College, seemed to be having second thoughts in a statement to McEnroe in June. "The historian in me still sees with alarm our national propensity to forget ugliness for the convenience of the modern moment, but the citizen in me just keeps seeing example after example of an inability to imagine that African Americans have a humanity that ought to be respected," Holloway wrote.
For its part, the Yale administration has so far been noncommittal. Spokesperson Karen Peart said in a statement: "The university welcomes engagement and discussion on this important topic: the tragedy in Charleston, on top of countless preceding tragedies in our country's history, has elevated public opinion and discourse on difficult subjects that have too long been avoided."