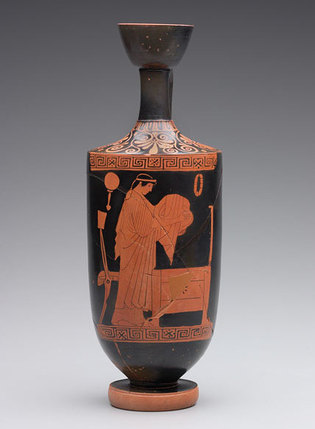 Yale University Art Gallery
This terra-cotta Athenian vase (circa 465 BCE) once held perfumed oil. It was probably kept in the same kind of domestic room that is portrayed in its decoration. View full image
A young woman is standing in a room, holding an armful of clothing or bedding that she is about to put into an open chest. She wears classic Athenian female attire: a lightweight pleated dress (chiton) with wide billowing sleeves, under a heavier mantle (himation) that wraps around her body and over her left shoulder. We know she is a member of the family that owns this place, rather than a servant—that is, rather than a slave—because of her fine clothing and long black hair. We know she is unmarried, because her hair is gathered in a small cloth bag tied with a fine red ribbon. We know we are inside a house, because a cloth headband and a round mirror with a handle are hanging on the wall.
The vase that displays this scene is a lekythos, a container for perfumed oil, and it probably stood in a woman's bedroom. It was later placed in a tomb, perhaps that of its owner, and from there it ultimately found its way to Yale.
Vases like these are full of information; for instance, much of what we know about ancient Greek furniture comes from them, since little that was made from perishable wood in that era has survived. The open chest shown here has a hinged lid, a starburst ornament on the side, and feline feet—the same kind of feet that became ubiquitous in American furniture, perhaps inspired by vase paintings like these. Chairs like the one depicted here were the source for neoclassical chairs that were popular in France, England, and America in the nineteenth century. This chair (klismos) has a wood or woven reed seat with a soft cloth-covered cushion.
Only a few Athenian vase painters signed their work, so modern scholars have invented "names" for them. The artist of this vase is known as the Painter of the Yale Lekythos, because the scene with the young woman is one of the most important works he produced. The scholar who gave him this name was Sir John Davidson Beazley (1885–1970), the still-unsurpassed connoisseur of Athenian vases. Beazley first saw the vase in early September 1914, as a young Oxford scholar on his first visit to America. The newly acquired Rebecca Darlington Stoddard Collection of vases had recently been put on display in the President's Room at Woolsey Hall, and there Beazley studied them with Paul V. C. Baur, a Yale professor of classical archaeology. It was Baur who had arranged for Yale to buy them for $25,000 the previous year. The seller, a Munich collector and scholar, had built the collection of 675 vases—he bought this one at a Paris auction in 1910—specifically for sale to a university.
As for Rebecca Darlington Stoddard, the donor of the $25,000, she was a coal and iron heiress and the wife of Major Louis E. Stoddard, Class of 1899, an international polo star. They lived in New Haven in a large Palladian house at 700 Prospect Street that is now part of Albertus Magnus College. Sadly, Mrs. Stoddard never saw the collection; she died in December of 1913, two days after giving birth to a son. She and her husband are buried in the Grove Street Cemetery.