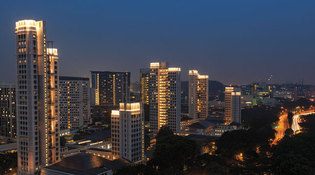 Yale NUS-College
The compact campus of Yale-NUS College includes the towers with distinctively lit crowns shown here, rising above three residential college courtyards and a central campus green. View full image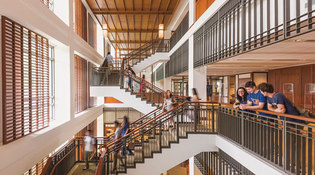 Jeff Goldberg
Yale-NUS's library, known as the "learning commons," emphasizes collaborative study space and technology as much as books. View full image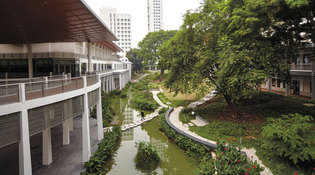 Yale-NUS College
The learning commons and other main buildings face a central campus green with a pond that helps manage stormwater. The large trees on the green predate the campus; they are among six on the site that by law had to be preserved because they are designated "heritage trees." View full image
In Singapore, some of the wisest minds of Yale-NUS College are having a practical, and philosophical, discussion about elevators.
The question is this: should the elevators in the students' residential towers stop on every floor, or only on every second or third floor? The towers have outdoor common rooms with lush greenery ("sky gardens," in local parlance) on every second or third floor; prominent external stairways lead from the sky gardens to student suites. For convenience's sake, the elevators could stop on every floor. But the architects and staff who planned the building had in mind that students sharing a sky garden would wait for elevators together on the sky garden floor. It would be a high-rise approximation of the chance stairway encounters provided by the entryway system in Yale's residential colleges. As of this writing, there is a compromise in place: the elevators stop on every floor going up, but only on the sky garden floor going down. (People with disabilities can override the system.)
This is just one example of how Yale-NUS and its new campus are trying to adapt the customs of American liberal arts education to the physical and cultural differences of a place halfway around the world. Now in its third year of operation, the college—a joint venture between Yale and the National University of Singapore (NUS)—moved into its new custom-built campus in July, after two years in borrowed space at NUS. Although Yale-NUS has only 500 students so far (it will ultimately house 1,000), it is beginning to shape an identity now that it has a home of its own.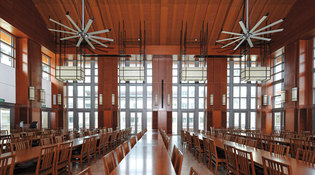 Yale NUS-College
Each of the college's three residential colleges has subtle differences in design, including varied finishes and roof shapes in the dining halls (Saga College's is shown here), and different patterns in railings on the many outdoor walkways. View full image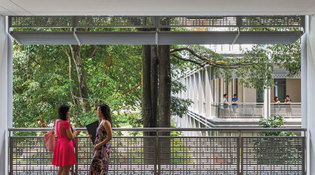 Jeff Goldberg
Designed by the New Haven architecture firm Pelli Clarke Pelli with the Singapore firm Forum Architects, the new campus was funded, like the college's operations, by the Singaporean government. "The opportunity to design an entire campus to be built at once is so unique," says Mariko Masuoka '78, '80MArch, who was Pelli Clarke Pelli's design team leader for the campus.
The college sits on the site of a former golf course that has been redeveloped as expansion space by the National University of Singapore. In a city where space is at a premium, the campus is unsurprisingly compact. At 15 acres, its area is about one and a half times the size of Yale's Old Campus. The college is organized around a central campus green flanked by the library, athletic facilities, performance spaces, and administrative offices. Beyond the green are the three residential colleges—named Saga, Cendana, and Elm for trees identified with Singapore and New Haven—each with its own courtyard. "Because it's so much smaller, you know nearly everyone," says Charles Bailyn '81, a Yale astronomy professor who is on leave to serve as Yale-NUS's inaugural dean of faculty. "It's very self-contained," he adds. "It doesn't have the same flavor of walking through the city that you get at Yale."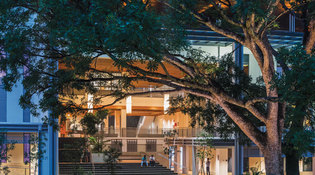 Jeff Goldberg
Also on the central green is a covered outdoor space called the agora, a central gathering place that offers shade and shelter from monsoon rains. View full image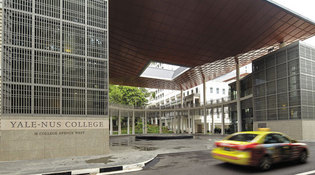 Yale-NUS College
Noting the importance of a formal sense of arrival in Asian institutions, the architects provided a covered elliptical entrance court. The hole in the roof drops rain— a symbol of knowledge and good fortune—in the center of the court. View full image
That inward-looking quality is part an intentional effort to establish the concept of residential-college living in a country where most undergraduates live at home. Although 60 percent of Yale-NUS students are from Singapore and could commute to the campus, the college requires students to live on campus all four years, in order to spark the kind of after-hours informal learning opportunities that characterize American colleges.
Also imported from New Haven: the dining hall. Austin Shiner '11, who went to work at Yale-NUS as an admissions officer and is now organizing its alumni affairs department, explains that the canteens at the National University of Singapore "serve great food, but it's more of a transactional space where you get in and out quickly. A dining hall where you would linger over a meal for an hour or more is less common in this context." So far, he says, the three dining halls at Yale-NUS are working as intended, with a "terrific energy."
And even more than at Yale, the college has a strong faculty presence. "We talked to residential-college masters in New Haven about what they wished they had in the colleges, and they said more faculty," says Bailyn. Each college has a rector (the equivalent of a master at Yale) who holds teas and events in a penthouse apartment atop one of the college towers. There are also several resident professors in apartments in each college.
Jeff Goldberg
The residential towers have "sky gardens" that function as outdoor common rooms for a set of student suites. View full image
One aspect of Yale residential college life—the primacy of the courtyard, where students soak up sun whenever they can—doesn't translate well to Singapore. There, the temperature hovers around 80 degrees year round, and monsoon rains are frequent. Even though Yale-NUS's courtyards are surrounded by covered walkways for shade and protection from rain, and are engineered to channel cooling breezes through the space, students don't tend to haunt the courtyards in the daytime.
But in the evening, the outdoor areas come alive. Bailyn, who has been involved with Yale-NUS since the earliest days of negotiating and planning the venture, describes a recent night when he walked the length of the campus to go home to his apartment in Saga College. "It was about 9:30 at night, and there were students studying in the library, people on the basketball court, and a concert letting out," he says. "I looked around and I thought, 'This feels like a college, not an experiment.'"