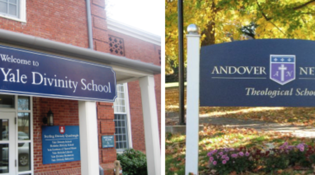 In 1807, while president of Yale, Timothy Dwight helped found the nation's first graduate theological seminary—in Andover, Massachusetts. "He was so focused on making us a seminary that he didn't live to see one at Yale," says Sarah Birmingham Drummond '93, dean of faculty and vice president for academic affairs at the Andover Newton Theological School. It was not until 1822 that Yale founded its own divinity school.
More than 200 years later, Andover Newton and Yale Divinity School (YDS) are looking to join forces. The schools announced in May that they are exploring a plan in which Andover Newton would come to Yale as an affiliated institution. In the first phase, beginning this fall, four Andover Newton professors will join YDS as visiting faculty. If it all works out, a more permanent arrangement would begin in the fall of 2017, with "Andover Newton at Yale" becoming a part of YDS. Six Andover Newton faculty, staff, and administrators would move to Yale, offering courses and support for students who want to be ministers in one of several Protestant denominations.
The product of a 1965 merger of the Andover Theological Seminary (the school Timothy Dwight helped found) and the Newton Theological Institution, Andover Newton trains ministers for service in denominations with congregational polity—that is, their local churches are largely autonomous. It has formal relationships with the United Church of Christ and the American Baptist Church and also trains ministers in the Unitarian Universalist tradition. It has 12 faculty and 175 students on its 20-acre campus in Newton, Massachusetts. If the plan goes forward, most current Andover Newton students would finish their education in Massachusetts over the next two years.
Like most mainline Protestant seminaries, Andover Newton is facing an existential crisis in an age of religious disaffiliation. Some of its peers have closed or merged with larger institutions, and Andover Newton sees an affiliation with Yale as a way to continue its primary mission. "We have a beautiful campus here, but so much of our financial resources go into maintaining it," says Drummond. "Selling it was already an inevitability."
Administrators say the relationship of the seminary to YDS would be similar to that of the Berkeley Divinity School, a formerly freestanding Episcopal seminary that became part of Yale in 1971. In that arrangement, YDS students interested in Episcopal priesthood affiliate with Berkeley, take specialized courses, and earn a diploma from Berkeley in addition to their Yale degree. YDS maintains faculty slots for professors with expertise in Episcopal theology and polity.
Divinity School dean Gregory Sterling says the arrangement with Andover Newton would help YDS emphasize preparation for ministry at a time when many of its students are pursuing religious education for other reasons. "At a divinity school that is part of a university, there is always a drift to the intellectual side of things," says Sterling. "This will buttress our commitment to ministry."
Another advantage for both schools lies in the potential to offer more financial aid to students, a key issue when students are graduating into low-paying jobs with a great deal of indebtedness. Through its endowment and the sale of its buildings, Andover Newton could come to Yale with the means to offer generous financial aid. This would help YDS reach its goal of offering full financial aid to students with demonstrated need by 2022.
Barbara Wheeler, a former director of the Auburn Center for the Study of Theological Education, thinks the plan looks promising. "The future of theological education lies with fewer, stronger institutions," she says. "It's hard for an institution that's been independent for 200 years to give up having the final say about how things will be," says Wheeler, "and at a complex institution like Yale, it's hard to take on a new institution with its own identity. But in this case the chances are good that the challenges can be overcome."
Sterling and Drummond both say they're optimistic. "We are institutions with similar values, unusually inclusive and broad," says Drummond.