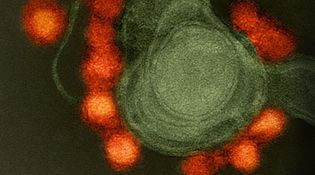 NIAID
Electron microscope image of the Zika virus. View full image
As the Zika virus epidemic spreads, and Zika's known risks and dangers multiply—including underdevelopment of fetal brains and transmission of the virus through sexual contact—scientists are racing to catch up. The good news: they're making progress. At Yale alone, researchers are active on several fronts.
At the School of Medicine, scientists have shown that the Zika virus targets the neural stem cells, which give rise to the developing nervous system in a fetus. They've also established how the virus causes microcephaly: it diverts a protein that is normally involved in cell division—thereby inhibiting the growth of those neural stem cells and ultimately killing them. What's more, the scientists discovered that an FDA-approved drug, already used to treat Hepatitis C, can prevent all of that from happening. "This is very promising," says neuroscientist Marco Onorati—though he adds that the drug needs testing before it can be given to pregnant women.
Researchers at the School of Public Health were part of a team that developed a novel online tool (zika.cidma.us) for evaluating anti-Zika interventions (how cost-effective are mosquito nets? How cost-effective are pesticides?)—providing data that governments and public health officials can use to make informed decisions.
Another team has shown that Zika travels directly from the vaginal tracts of pregnant mice into the brains of their fetuses. That, says immunobiology professor Akiko Iwasaki, raises the "scary possibility" that sexual transmission could also lead to birth defects. More hopefully, the research also suggests that boosting the body's immune system might provide some protection.