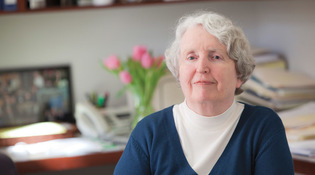 Terry Dagradi
Carolyn Walch Slayman was the first woman to head a department at the School of Medicine. View full image
Carolyn Walch Slayman, deputy dean for academic and scientific affairs at the Yale School of Medicine, passed away on December 27 at age 79, leaving a trail of firsts and a legacy of decades of work with junior faculty. "Now that she is gone, it is even more apparent how much she did behind the scenes in her quiet, unassuming way," says Lynn Cooley, dean of the Graduate School of Arts and Sciences. Slayman hired Cooley in 1989, and Cooley still marvels at the support Slayman gave her over the years.
"She had a unique ability to listen to people in a thoughtful way," says Robert Alpern, dean of the medical school, "and not always give them what they wanted, but make them feel that they had been heard and that they were important. She probably had just the perfect temperament of anyone that one gets to work with."
Slayman first arrived at Yale in 1967, when she joined the medical school as an assistant professor in the Departments of Microbiology and Physiology. She had been the only woman in her PhD year at Rockefeller University. When she was named chair of the Department of Genetics in 1984, she became the first woman to head a department in the medical school. Seven years later, she was named Sterling Professor of Genetics—only the second woman to receive a Sterling Professorship, Yale's highest academic honor. And in 1995, she was the first woman to be named a deputy dean at the medical school.
"She went way beyond the call of duty," says Cooley, remembering Slayman's handwritten notes on her first grant proposals, which she returned to Cooley overnight. "She took the time to really help; she showed an unusual level of dedication." Slayman also had a lighter side. "She was a great storyteller," adds Cooley, and "enjoyed listening to trucker music. She knew it and would sing along."
In her years as deputy dean, from 1995 until her death, Cooley says Slayman was always fully engaged and supportive. "Unselfishly, without fanfare or fuss," Cooley told the group at Slayman's memorial service, "Carolyn became my most valuable mentor through every stage of my career at Yale."