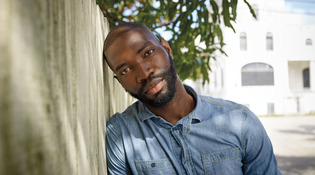 Jeffery Salter
Tarell Alvin McCraney '07MFA will be the drama school's chief playwright. View full image
Award-winning playwright Tarell Alvin McCraney '07MFA is back at Yale. McCraney officially takes over as chair of the playwriting department at the Yale School of Drama this summer—although this winter he stepped in part-time to begin shaping the program he will lead for the next three years. McCraney will also be playwright-in-residence at the Yale Repertory Theatre, succeeding Paula Vogel, whose play Indecent is now headed to Broadway.
McCraney was nominated for an Academy Award this year for cowriting the film Moonlight, which was based on a play he wrote. [He and Barry Jenkins won the award after our print issue went to press.—Eds.] Moonlight, like many of his plays, draws on the neighborhood of his childhood. In a 2014 profile, McCraney told the Yale Alumni Magazine that stories "are and have been my only methods of trying to make peace with a chaotic world." He described growing up without much money in Miami's Liberty City neighborhood, and how he figured out how to pursue a life in theater. After graduating from DePaul University in 2003, McCraney went on to Yale's playwriting program, graduating with his master's in 2007.
Among McCraney's many awards are the Windham-Campbell Prize and a 2013 MacArthur Fellowship. His plays have been produced in theaters from New York to Istanbul.
"He is one of the nation's leading playwrights—as well as a wonderful actor and director—manifesting both a profound passion for the art form and a deep commitment to raising the standard of practice in the field," says James Bundy '95MFA, dean of the School of Drama and artistic director of the Yale Repertory Theatre.