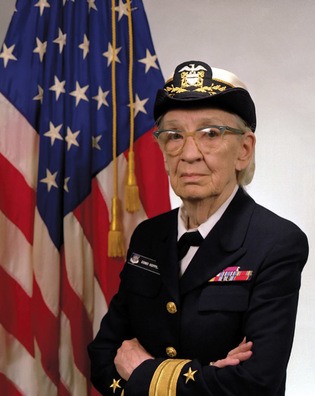 United States Navy/Wikimedia Commons
Rear Admiral Grace Murray Hopper '34PhD, shown here in a 1984 US Navy photo, helped shape the field of computer science. Last fall, she was posthumously awarded the Presidential Medal of Freedom. View full image
Grace Murray Hopper '34PhD was rejected by the Navy, belittled by a man who hadn't wanted a woman as a deputy, and ignored by a corporate employer that considered computers (before they were called computers) a waste of time and resources. None of it stopped her.
She overcame the Navy's objections and would eventually be promoted to rear admiral. After a stint as the world's third computer programmer, she led the development of technology that helped make computers ubiquitous—inventing the first compiler (the component that allows computers to translate source code into machine code) and playing a key role in the creation of the programming language COBOL, for decades the most widely used computer programming language in the world. On the 40th anniversary of coeducation at Yale, 17 years after her death, then–Yale president Richard Levin '74PhD paid tribute to Hopper in his freshman address, describing her as "the kind of person we hope each of you will become: a leader, an innovator, a hard worker, a creative force."
Born in 1906 in New York City to an insurance company executive (and Yale graduate) and a mathematician—both of whom encouraged her to pursue her academic ambitions—Hopper early on showed an affinity for puzzles, math, and building things. She started college at Vassar in 1924, a year later than she had intended, according to an oft-repeated story, because Vassar thought her Latin skills needed polishing. STEM (science, technology, engineering, math) didn't exist as an acronym then, much less as the academic priority it is today, but Hopper had decided to major in mathematics and physics. After graduating, she spent two years at Yale getting a master's degree in math, then returned to Vassar to teach and finish her Yale doctoral dissertation.
Hopper followed a decade of teaching with a mathematics fellowship at NYU, and then felt compelled to serve her country in the aftermath of Pearl Harbor. She pushed for a waiver to get past objections to her age (36) and her weight (too low), and she joined the Navy. She was assigned to work for Howard Aiken at the Harvard Computation Lab. It wasn't what she expected, and she wasn't who Aiken had expected. But after an initial resistance, he soon made her his primary programmer and second in command. (Years later, he would say, approvingly: "Grace was a good man.")
Having completed his PhD at Harvard, Aiken had designed the first electromechanical calculator, known as the Mark I computer, built by IBM but housed on the Harvard campus. Although initially created for the war effort, Mark I led to Mark II, and then Mark III, laying the groundwork for the computers to come. After moving to private industry following the war, Hopper and her team pushed through obstacles created by company naysayers to create the compiler and help establish a new industry.
In 1967 Hopper returned to the Navy as an officer and became a technical adviser, overseeing the Navy's use of COBOL. She eventually retired as a rear admiral in 1986—the oldest active officer at the time. An aircraft carrier, the USS Hopper, was named for her after she died.
One correction to the record: despite rumors to the contrary, Hopper never claimed credit for first calling software glitches "bugs." According to her own meticulous notes in the log at Harvard, one day in 1947 she found a moth making trouble inside the Mark II. She captured it, taped it into the log, and jokingly recorded the "first actual case of bug being found." Bugs predated her moth.