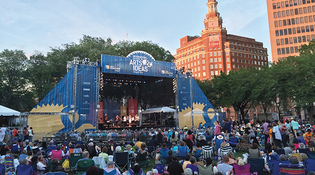 Judy Sirota Rosenthal
New Haven's Festival of Arts and Ideas draws around 100,000 people every year. Here, a 2015 event on the Green. View full image
"When great art and big ideas come together, we heighten our ability to understand and imagine." New Haven native Anne Calabresi, businesswoman Jean Handley, and psychologist and Yale med school clinical professor Roslyn Meyer '71 started with that premise when they founded the International Festival of Arts and Ideas in 1996. That first year, the event took place over three days. Twenty-two years later, New Haven's International Festival runs for three weeks in June at venues throughout the city, including on the Yale campus, and draws around 100,000 people.
Neighborhood pop-up events will kick off this year's festival, scheduled for June 3 through June 24 and slated to include more than 200 happenings: theater and dance performances, talks, adventures, concerts, and interactive exhibits. Internationally known performers, including Rusted Root and The Wailers—Bob Marley's band—are scheduled to play concerts on the New Haven Green. The festival is designed to appeal to a broad audience of all ages and cultures, and most events are free to the public.
More than 200 seasonal staff members, 11 full-time staff members, and over 300 volunteers coordinate the group's activities, funded by a budget of $3 million (80 percent privately donated, the rest from government grants). Though the festival is the most visible part of their work, the organization's activities are year-round. Arts and Ideas offers fellowships and educational opportunities to local youth and to artists from around the world throughout the year.
Yale has participated from the start; the art galleries and the schools of music, drama, and architecture are just a few of the parties involved. Chad Herzog, the festival's director of programming, says it's a mutually beneficial arrangement: "Not only do we work together to make the festival happen in June, but these partners then call on us to help drive people to their events throughout the academic year. The festival has been able to serve as a nice bridge over the last 22 years between Yale and the community. For some people, the first chance to get on the campus or into the buildings is during the festival. If we can help bring people into the museums and other venues during that time, chances are people will come back during the year as well."
Some work scheduled for this year, like Black Girl: Linguistic Play, by Camille A. Brown and Dancers, has been touring since 2015. Others pieces are world premieres, commissioned or co-commissioned by the festival. This season, these will include The End of TV, by multimedia production company Manual Cinema; and a new composition by China's celebrated composer Ye Xiaogang, performed by the Texas-based Miró Quartet and Grammy-nominated pipa player Wu Man.
Wu Man, who moved to New Haven with her husband immediately after leaving China in 1990, learned English in New Haven and performed her first US solo concert at the Yale University Art Gallery. "For me, premiering this piece at the festival in New Haven—it's something very special to share East-West music with the audience there," she says. "The arts festival brings all the people together to share ideas, to share music." Although Wu has since moved from the state, she adds, "There's a very special feeling and space for me in New Haven."
That's a feeling the festival organizers hope to foster among the participating artists. "Right now, I'm working on 2017, 2018, and 2019," says Herzog. "We'll be continuing to bring the best thinkers and the best artists from around the world to New Haven in coming years."