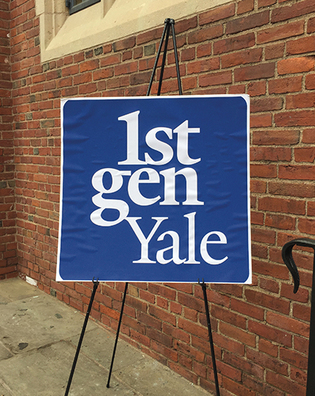 Lise Chapman '81MBA
Last year, when Laura Plata '19 visited Harvard for the second annual 1vyG conference—a weekend for students who are the first in their families to attend college—she left feeling that the challenges facing students like herself were largely insurmountable.
"How was I supposed to transform an institution that had been around for 300 years? How was I supposed to change a space that wasn't meant for me to begin with?" Plata says. "At the time, that's what it felt like, that [Yale] wasn't a space I was really meant to be in but that I had somehow slipped into."
Hoping to turn her doubts into concrete action, Plata resolved to bring the 2017 1vyG conference to Yale. With cochair Rayan Alsemeiry '19 and a team of other students, she organized a program aimed at equipping first-generation, low-income students with tools to drive institutional reform in higher education.
In February, 340 students from 18 colleges and universities across the country arrived at Yale for the conference. The weekend featured more than 50 speakers in workshops, panel discussions, and career networking sessions, and was supported by $160,000 in alumni donations and corporate sponsorships.
Over the past few years, the number of first-generation students at selective colleges has increased dramatically. At Yale, the total rose from 162 in the Class of 2017 to 205 in the Class of 2020. Yale College dean Jonathan Holloway '95PhD told the conference that for the past three years, Yale has accepted more first-generation students than legacy students.
Yet for many first-generation students, arriving at college can be an isolating and challenging experience. Resources vary widely across campuses—early move-in days, emergency funds, dedicated student centers—and some work better than others.
Eden Harris, a sophomore at the University of Pennsylvania studying bioengineering, says that last year, she couldn't afford to buy most of her textbooks and struggled through her classes without them. Only when a classmate reached out did she realize that there was support available to her, in addition to a network of first-generation students on campus. "I had to look for the support because no one told me it existed," she says. "Maybe part of it was that I wasn't going around broadcasting 'I can't buy my books, someone should help me,' but I don't think that students should have to."
The Yale College admissions office notes that Yale offers a free five-week summer course for incoming low-income and first-generation students to help them prepare for freshman year; 60 students took part last summer. Yale also offers a free online math course, open to all first-years. In addition, Yale provides a $2,000 "start-up fund" so low-income first-years can buy necessities like computers and winter coats.
Over the course of the weekend, Harris and her peers learned how to expand support for first-generation students by collaborating with administrators, leveraging the power of social activism, and advocating long-term inclusivity.Marianna McMurdock, a sophomore at Brown, was excited to learn about a pre-orientation program at Dartmouth that helps first-generation students acclimate to college academics, an initiative she hopes Brown will emulate. First-generation students are "constantly thinking about something larger than ourselves, whether that be the community at home, or the institution itself," McMurdock says. "Everyone I've talked to is here, in part, to bring knowledge and initiatives back to their universities."