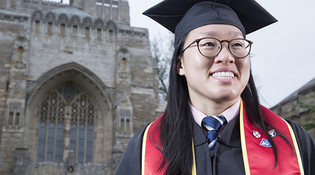 Mark Ostow
Serena Lau
BA, Anthropology, Morse College
Sunnyvale, CA
What did you study?
Anthropology. But I've taken so many different courses: linguistics, computer science, environmental studies. Women's, gender, and sexuality studies. I've been all over the map.
And maps interest you?
I actually wrote my senior thesis about a crowd-sourced mapping platform called OpenStreetMap. Millions of people around the world log on and map little bits of their communities. It's become a really robust data source.
You were a first-generation college student. How did that affect you?
When I arrived, I very much felt out of my depth. I found myself in this place that I'd dreamed about, and now that this dream had been realized, I was unsure of how to proceed. But I found really great friends and a lot of support.
What advice would you give to a first-generation student arriving here in September?
Just stick to your guns and know there's a reason you made it to this campus. [Admission to Yale] is a testament to perseverance, and hard work, and intellectual curiosity. Those are things that can really flower here. Know that you can do this—and it will just be the time of your life.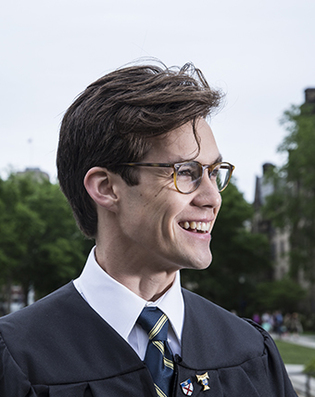 Mark Ostow
Elias Brown
BA, Music, Ezra Stiles College
Santa Monica, CA
I heard that you play trumpet.
I play trumpet, and I conduct, primarily. That's one of the main reasons why I came to Yale, as opposed to going to a conservatory and doing a trumpet degree.
What makes a good conductor?
It's preparation, in every way that you can prepare. It's understanding the historical, political, and social context within which a piece is composed. It's understanding the composer's life experience that's moving into that composition. A huge part is making instrumental-ists and singers feel comfortable and confident.
Did you conduct during high school?
I conducted my high school orchestra, and I did a master class in St. Petersburg, Russia. That was the impetus for my going into conducting. I'm actually going back there on Wednesday to conduct again, with the Yale Symphony Orchestra. We'll be touring St. Petersburg, Moscow, Yaroslavl, and Veliky Novgorod.
What do you do to relax?
I bike a lot. Yeah, people associate me with being with my bike, on my bike. For Class Day yesterday, I wore my bike helmet instead of a hat.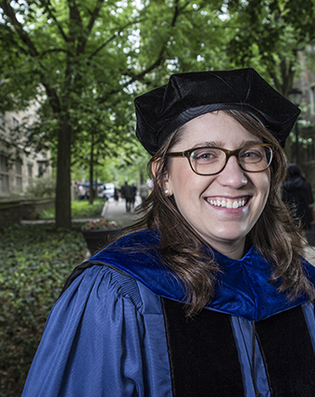 Mark Ostow
Lauren Tilton
PhD, American Studies, Graduate School
New Orleans, LA
What are your academic interests?
Twentieth-century visual culture and the politics of representation. I look at film and photography to see how we can, through them, understand US culture and politics. My dissertation is on community filmmaking in the 1960s and 1970s. I look at how organizations across the United States put the power of moving images in the hands of local communities in the '60s, when people are trying to speak about themselves on their own terms. I specifically look at communities like Appalachia where a community film workshop opened to help them be able to represent themselves, as opposed to being stereotyped by poverty.
Tell me more about your work.
When I got here, I got very involved in digital humanities. We use computational approaches to ask humanities questions. [I worked with Professor Laura Wexler] on Photogrammar [photogrammar.yale.edu], which visualizes and maps 170,000 photographs of the Great Depression and World War II, using GIS [geographic information systems]. Each of the photographs has a geographical location, so users on the site are able, say, to go to their hometown in the US and find photographs from that place. We've had half a million page views in the last year and a half.
Digital humanities is a new field. And, in fact, I just got a tenure-track job as an assistant professor of digital humanities at the University of Richmond.
That is great news!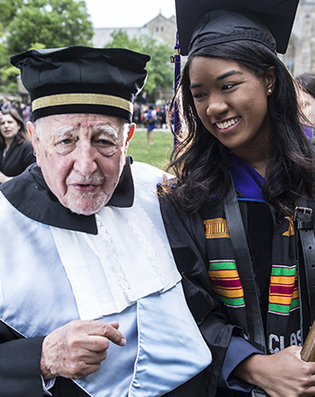 Mark Ostow
Guido Calabresi '53, '58LLB
Sterling Professor Emeritus of Law and professorial lecturer in law; Senior Judge, US Court of Appeals for the Second Circuit; former dean, Yale Law School
To the right is Law School flag bearer Amber Koonce '17JD of Charlotte, NC.
Do you have some relationship with this flag?
I carried this flag in 1958 when I graduated from the law school—so, 59 years ago. And it poured. It's wonderful to have the flag carried this year by one of the kids I taught torts to. Or she taught me, because there hasn't been a year that I haven't learned from the kids in my class.
Why do you teach?
Because I love it. I've taught since 1959, and though I'm a senior judge, I now teach two-thirds time, and I judge two-thirds time, so my math must be as bad as ever. But how can you not teach, when you've got kids like these? Oh, and my gown, by the way, is from the University of Bologna, from which I have an honorary degree. I particularly love to wear it because it was my mother's university. I like to wear something that honors a remarkable lady.
Did she immigrate from Italy?
Yes—my dad and my mother and my brother and I all came.
What's your view of immigration?
Well, I'm obviously prejudiced. I think my brother and I and my parents did something for our country. I now see all sorts of people who are the essence of this country for the next generation—who were, for instance, in the Asian immigration of the '50s. So you have Sterling Professor Harold Koh, who was the senior legal adviser to Secretary of State Clinton; Sterling Professor Akhil Amar ['80, '84JD], probably the leading Constitutional scholar of his generation; and Neal Katyal ['95JD], who was acting US solicitor general. Immigration has been the lifeblood of America.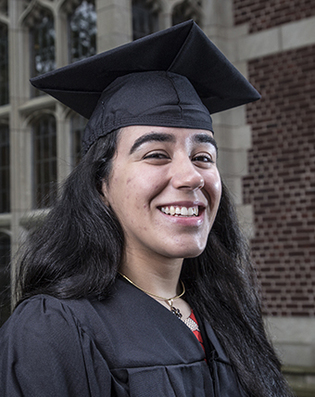 Mark Ostow
Alexandra Cadena
BS, Ecology and Evolutionary Biology and Theater Studies, Berkeley College
Houston, TX
Those two majors together sound like a lot of work.
Yeah, I was writing my two theses in tandem. I think I survived because theater studies helped fuel my creative outlet when I was getting frustrated when [lab] experiments weren't working—and when things didn't go well for my theater studies, I could return to the regimented experimentation of my science degree.
So in which direction are you going?
I received two Yale yearlong fellowships to do research at MD Anderson [Cancer Center in Houston]. I'm continuing my thesis research on lung cancer and immunotherapy. And then half of my time I will be working with IP [intellectual property] lawyers to see if I can patent any of the drugs that are coming out of the lab I'm working at. There's a huge disconnect between research scientists and IP lawyers.
So what happens with the theater?
I'm part of a small film company, and we have a film that we've submitted to a couple festivals. And I am consulting on the board of Queensbury Theater in Houston to bring in more diverse works.*
____________________
* As originally posted online and in our print edition, we wrote that Cadena received a BA in Theater Studies and Ecology and Evolutionary Biology. In fact, she earned a BS in Ecology and Evolutionary Biology and Theater Studies. In addition, some of her statements in our interview were outdated. (She sent corrections, but because of a miscommunication in our office, we didn't receive them in time.) They have been corrected here.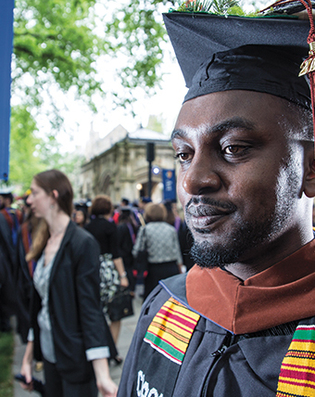 Mark Ostow
Erik Ndayishimiye
Master of Environmental Management, School of Forestry and Environmental Studies
Kigali, Rwanda
What is your interest in terms of the environment?
I focus on landscape-scale conservation. It's a way of protecting biodiversity holistically. In the past, we focused on protecting wildlife inside protected areas, like national parks. But recently, science has found that if you concentrate on protected areas without connecting the whole landscape, it's not a viable way to protect species. In a small, secluded place, species [go] extinct.
And protected areas have to be connected through some kind of green space?
So species can move if they need to. Especially right now, with climate change, habitats are going to shift. Also, now it's recognized that people are part of landscape. When you protect the whole landscape, you also look at [human] land use and people's needs. So you can do integrated conservation, including people.
What's next?
I'm going to be a conservation fellow at Open Space Institute in New York.