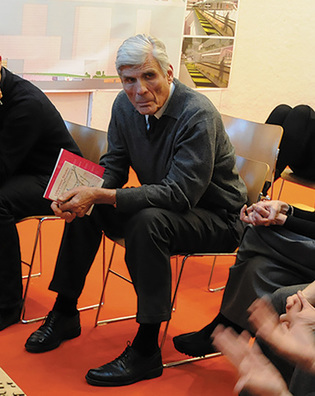 John Jacobson
Remembered
Fred Koetter (left), an architect and urban planner who was dean of the School of Architecture from 1993 to 1998, died on August 21 in Brookline, Massachusetts, after a long illness. He was 79. As a teacher, writer, and practitioner, Koetter was an early advocate of a pluralistic, postmodern approach to urban design. His firm's work included the master plan for Canary Wharf in London and Rosenkranz Hall at Yale. He continued to teach at Yale until 2014.
Stepping down
Thomas Beckett will retire in June after 24 years as the university's director of athletics. Beckett helped raise the athletics endowment from $20 million to $283 million, and Yale teams have won 28 national championships during his tenure. Yale College dean Marvin Chun is leading a committee to search for Beckett's successor.
Appointed
Joliana Yee has been named director of the Asian American Cultural Center. Yee was born in Kuala Lumpur, Malaysia. She studied at Miami University of Ohio and Indiana University and is currently completing a PhD in higher education at Loyola University of Chicago. She will begin her new post in January.