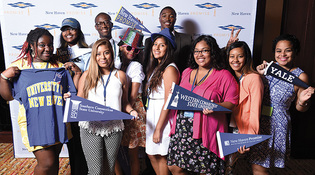 Arnold Gold
New Haven Promise Scholars who served as ambassadors for the program gathered at the 2015 Scholar Celebration in New Haven's Omni Hotel. Front row, left to right:​ Alejandra Rodriguez (Southern Connecticut State University), Hydiea Johnson (SCSU), Yazmin Rosas (Quinnipiac), Tiana Cintron (SCSU), Niasia Mercado (SCSU), Anabelle Marty (Yale). Back row, left to right: Brittany Palmer (University of New Haven), Troi Branham (Eastern Connecticut State University), Jason Boyd (University of Connecticut), James Baker Howard (Central Connecticut State University). View full image
"When I was in high school, I hated it," says Isaac Bloodworth, pointing to Jean-Michel Basquiat's Ankle, in the Yale University Art Gallery. "It didn't make sense. I thought it looked like chicken scratch." Today, Bloodworth is a 2017 graduate of the University of Connecticut and a four-time summer intern at the gallery, and he sees Ankle very differently. "This piece is one that shows my evolution as a black man," he says. "I fell in love with the piece."
Bloodworth's college education and Yale Art Gallery internships were funded by a local public-private partnership called New Haven Promise. For New Haven residents who meet its criteria—including 40 hours of community service, a 3.0 GPA, and a 90 percent attendance rate at a New Haven public school or charter school—the program pays up to 100 percent of their tuition at in-state public colleges or $2,500 toward private college tuition in-state. Yale funds the scholarships, which the program estimates will cost $3.1 million for more than 700 students during the current academic year. To date, the program has funded 1,242 Promise Scholars, of whom about 80 percent are either still in college or have graduated, according to New Haven Promise president Patricia Melton '83.
"I think of it as Yalies for New Haven," says Melton, referring to the integral part Yale has played in the program's success. It was launched in 2010 by then-mayor John DeStefano Jr., then–Yale president Rick Levin '74PhD, and Will Ginsberg, CEO of the Community Foundation for Greater New Haven, with funding from Yale–New Haven Hospital, Wells Fargo, and Yale University. New Haven Promise is run by just four people, but it is part of a nationwide movement, started in Kalamazoo, Michigan, to strengthen cities and schools by creating a college-going culture. Each city operates its program differently.
The founders of New Haven Promise felt that getting kids to college wasn't enough; they needed to ensure that Promise Scholars were ready to handle the academic rigors of college and to launch their careers and civic lives back in New Haven. Toward that end, Melton has developed a peer mentorship program on Connecticut campuses, with students creating cohorts at their schools. Promise Scholars Jorgieliz Casanova (Albertus Magnus), Lily Engbith (Yale '17), and Bloodworth have served as ambassadors and credit the experience with helping them develop leadership and networking skills, as well as keeping them connected with the New Haven public schools. As for the internship program Bloodworth participated in, its size has quadrupled since it started in 2013. Paid internships offer students the opportunity to learn essential work skills, and they benefit New Haven organizations. "We started with Yale, but now we've placed students at other organizations because we see ourselves as a talent pipeline," says Melton.
"I have such passion for the city and no intent of leaving," says Casanova, who, like three-fourths of Promise students, is a first-generation college graduate. "That connection to the city was one of the biggest benefits because I felt secure in launching my career here and I felt secure in my undergraduate degree." Today, he's a full-time employee at New Haven Promise and is applying for the MEd program at Southern Connecticut State University. Engbith is a research associate at the Yale School of Management. Chris Brown, human resources director of Yale's New Haven Community Hiring Initiatives, says that 25 departments hired Promise interns in 2017. "The students are smart, creative, and bring so much to the table," he adds. At the art gallery, for example, they "helped the curators to look at how we share art with the community." Several Promise interns are now full-time employees at the university; the very first has been raised to Yale's managerial and professional rank.
As for Bloodworth, who earned his BFA in puppetry, he's applying for full-time positions at Yale. Asked what advice he'd offer to students, he says: "Just get involved however you can. It's helping the students and the parents. It helps the community."
The Promise, says Melton, is "having a huge impact." She notes, "People in the city really know what Promise is, and I think that strengthens the fabric of the city. No other Ivy League school is doing anything like this. I'm certainly proud of my alma mater because of it."