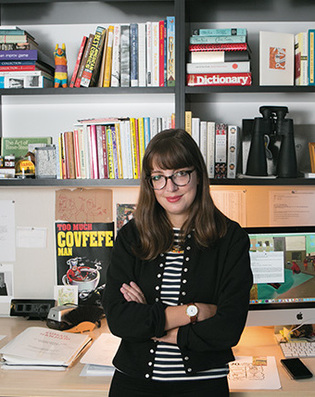 Julie Brown
Emma Allen '10, shown here in her office at the New Yorker, is the magazine's editor for cartoons and Daily Shouts. Don't get her started on her high school mascot. View full image
Emma Allen '10 is the new cartoon editor of the New Yorker. (Imagine having that job: cartoon editor.) She also edits Daily Shouts. She majored in English and studio art, and she chose Yale because she was a huge Gilmore Girls fan and "somehow didn't process the fact" that it was filmed in California.
Y: Did you grow up with a stack of unread New Yorkers getting taller and taller?
A: My stepfather is a bit of a neat freak, so they were sort of shoved under my bed, hidden away. From a very early age I was reading the cartoons and understanding about 20 percent of them.
Y: What made you laugh in high school?
A: I went to Brearley—I'm a "Beaver for Life."
Y: No.
A: Yes—it's like the greatest punch line to grow up with, and I went there for 13 years.
Y: So the mascot is—
A: As horrifying as you can imagine. A big-eyed, toothy mammal with a big old tail and a t-shirt.
Y: Were you a great student?
A: Besides being a Simpsons watcher and sitcom fanatic, mostly what I did was I went to the movies all the time.
Y: Tell me a seminal event.
A: My best friend growing up said, "I have to take you aside. I have a secret."
Y: A crush? A crime?
A: She said: "I've been taking stand-up comedy classes at the New School." So she got really into comedy and she started doing open mics, and that's how I got to know the New York City comedy clubs. There was this guy we called "Enema Guy." He'd always bend over a stool using the mic as a prop.
Y: Naturally that inspired you to a life of humor.
A: At college, a lot of my friends were in the improv comedy group Just Add Water. And now many of them are successful comedy people: Allison Williams ['10, from Girls], Ethan Kuperberg ['11] who writes for Transparent, Will Stephen ['11] who writes for Shouts and Murmurs [in the New Yorker] and also SNL.
Y: Were you in it?
A: I was not. No, no. I don't like to perform at all.
Y: But you were a writer?
A: I had a column briefly in the Yale Daily News. It was called The Unethicist. I gave the worst possible advice. "Why You Shouldn't Recycle." "Why You Should Live Your Life Exactly Modeled on Television Shows."
Y: Did you go directly to the New Yorker after school?
A: I wrote about the art world for a couple of years and had a column in the New York Observer called Artless in America. Then about five and a half years ago I was hired by Susan Morrison, who is a brilliant humor editor here. I was her assistant, and then I got to start helping edit Talk of the Town and work on Shouts and Murmurs, and around that time there was a plan to start Daily Shouts, a daily humor page. I just sort of started recruiting all these people and fielding these submissions, and eventually the editors were like, "Do you want to take this over?"
Y: And you said, "Nah. No one reads the New Yorker for the cartoons."
A: I would never have dreamed I'd get this job. When I was a kid I wanted to be a medieval historian because I thought that somehow that meant you got to hang out with dragons.