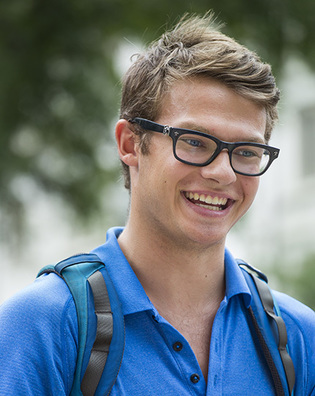 Mark Ostow
Jens Odegard '21
Weston, MA
Ezra Stiles College
Have you shopped many classes?
I think six, total. I've got a pretty good grasp of what I want to do: econ or EP&E [ethics, politics, and economics].
What kind of work would you like to do?
My dream would probably be M&A [mergers and acquisitions].
Has anyone suggested to you that you're too sure, too soon?
I'm open to the idea. But I took a gap year and worked for a wealth management firm, and I was able to get a sense of different parts of the financial industry.
How do you see yourself as different, having taken a gap year?
I have a lot more perspective. I went from a private middle school to a private high school—all boys. Taking a step back and seeing what really matters in life is definitely something I'm very grateful for having had the chance to do. I have a greater appreciation for a well-rounded life.
When I was leaving, [my boss] told me, "You need to find something in life that you're passionate about. We have so many clients who have six, seven, eight, even nine figures in their bank accounts, but they're just miserable. You need to find something that you wake up, every day, excited to do."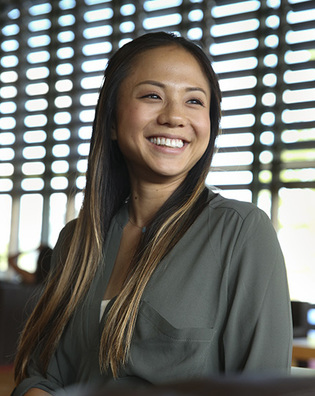 Mark Ostow
Kylee Chang '19MEM
Hilo, Hawaii
School of Forestry and Environmental Studies
Are you coming here straight from undergraduate?
I'm not. I have a master's in earth sciences from Scripps Institution of Oceanography at UCSD [University of California–San Diego].
How will an environmental management degree augment your earth sciences degree?
I got really into the science—the research into what's causing climate change—but I felt like I was only able to communicate with scientists in an ivory tower. This will help me reach a broader audience, help me to speak the language of policy makers and of businesspeople who are investing in more-sustainable ideas. I'm interested in translating environmental science and concepts into easily digestible ideas.
Why is recycling important?
There's a lot of toxic waste going into landfills, including certain chemicals like rare-earth elements that are becoming more and more expensive to extract.
Has anything surprised you since you got here?
Probably the diversity of the class: students come from policy, economics, and scientific backgrounds. We were all able to have the MODs [Technical Skills Modules] experience together, a three-week orientation. The community that was built will allow me to learn from my colleagues.
Do you plan to settle in Hawaii, ultimately?
My grandparents have this taro farm; taro is a native staple in Hawaii. I've seen the land on their farm slowly change with invasive species. I feel I need to leave my home to gain experience and knowledge for saving the environment, and then eventually bring it back to Hawaii.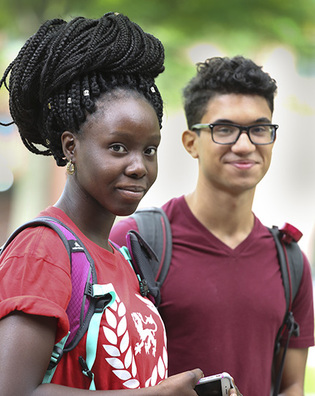 Mark Ostow
Rebecca Amonor '21
Columbus, Ohio
Timothy Dwight College
with
Brian Reyes '21
New York, NY
Berkeley College
Rebecca, how many classes are you shopping?
Nine.
How is that physically possible?
Today I had my busiest day. I just got out of my last class, at 3:45. Classes started at 9:00 a.m.
Did you strike gold?
No. I'm trying to get into an English class, so I was shopping a bunch of classes. And then I had my Chinese class, and then an econ seminar. I loved the English class I was just in now. The Chinese class is good. The econ professor, Tolga Koker—he's really good. He's funny. I didn't like the English class this morning. And then I just took Lawyers as Rebels [a history class]. It was very crowded, so I don't think I'll get in, but who knows?
Brian, what's the class that you're psyched about?
Spanish. It's the class for heritage speakers. There's only about ten of us. I know some Spanish from home [having parents from the Dominican Republic], but I'm not fluent. I'm very excited to become fluent. And the teacher is very understanding of kids who come from backgrounds like mine, who know Spanish but don't know it completely.
Have you been to the DR?
Yes—only once, though. I'm hoping to go with Yale, because there's a service trip there.
Rebecca: Wait—this summer?
Brian: Spring break.
Rebecca: Oh, nice.
What do you think of New Haven?
Rebecca: I have not spent much time here. But I see it has a lot of good food, and diverse people.
Brian: I come from New York City, so it's a much smaller city than I'm used to. But I still enjoy the energy that I get from being in an urban environment. And that's really important to me, like the fact that Yale is intertwined with New Haven, and cars drive through our campus.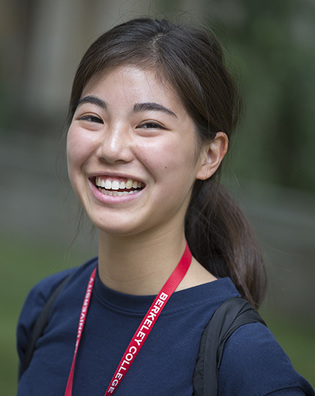 Mark Ostow
Anna Zheng '21
Foster City, CA
Berkeley College
What's the most fun you've had so far?
I went to Woads yesterday [a Wednesday dance party at Toad's Place, the nightclub]. I was able to meet a lot of my classmates there. It was really loud, and so it was just a lot of dancing. It was a good academic de-stressor, to go for an hour.
Are you a dancer?
Yeah, I'm more of a ballet dancer. I've danced for around 13 years.
And whose idea was that?
For me to do ballet? I think my mom needed to find like a hobby for me. For a lot of girls, it's a phase and then they quit, but I stuck with it. I've actually been to Russia to study ballet—I graduated half a year early from high school to study at the Bolshoi Ballet Academy in Moscow.
You could have gone straight into a ballet troupe, I assume, instead of going to college. How did you make that choice?
A dance career is often really short-lived. I always kept up with my academics. I took a lot of rigorous classes in high school, like computer science and math. I dabbled in robotics and organized hack-a-thons for my high school, and a Girls Who Code club. It was all stuff I really enjoyed, so it was worth sacrificing a lot of sleep time.
What class are you looking forward to?
Intro to Comparative Politics. Today was the first day. It was comparing the structures and regimes of a lot of different countries abroad, and one of them was Russia.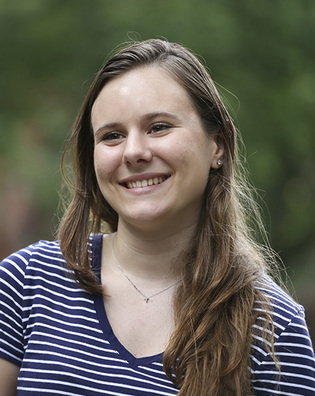 Mark Ostow
Cristina Otero '21
Miami, Florida
Jonathan Edwards College
What's in your [Yale Bookstore] bag?
Textbooks and also some pleasure reading as well. A neuroscience textbook, and The Everyday Writer for my English writing seminar. The seminar is: What Is a Book?
What's your pleasure reading?
The Bell Jar and Invisible Cities.
Do you have any idea what you're going to pursue, academically?
I'd like to major in neuroscience, the new major. I'm premed.
Tell me about your suitemates.
They're from all over the world. One of my suitemates just came from Ukraine—her parents are in the military, so she was living there. She's in ROTC. Another one is from India. She's become one of my best friends so far. Another one is from Boston, and she's getting a play produced there.
What has surprised you about Yale?
Oh, wow. I knew that there was a big emphasis on making sure every door was open, just being able to explore any academic interest you have. But there are even more opportunities than I could have anticipated, to explore and just to take classes for fun, because it inspires your curiosity.